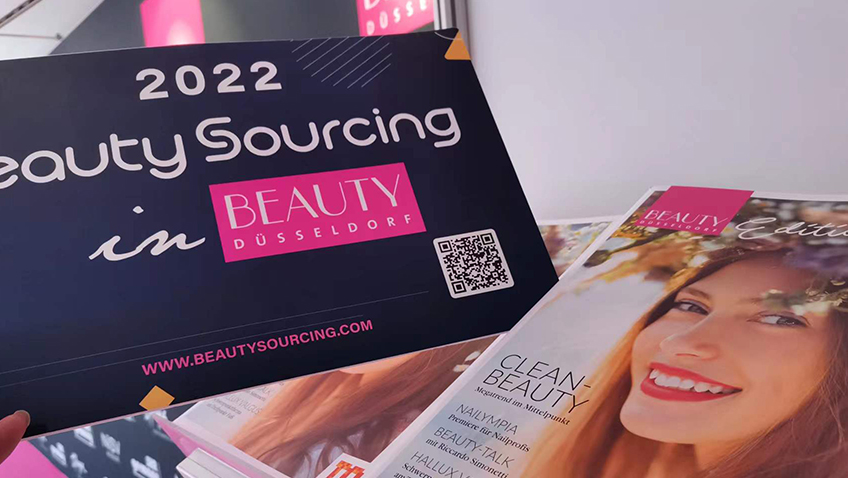 On May 8, 2022, the third offline event of
BeautySourcing
's premium suppliers drew to a satisfactory close. Over the three days, the BeautySourcing Marketplace had attracted a large number of professional buyers coming from Germany and beyond. With the help of the O2O business model, these buyers could not only see things but also feel, smell, touch samples and even try them out. They came to find new impulses and inspiration, explore new products and discover new trends.
Admittedly, due to the pandemic, this event could not be comparable to previous editions in terms of size and number of visitors. But this event showed a sign of a basically rapid recovery of the German beauty market. This year, besides big manufacturers, many small-size brands have emerged. Most of them are established by online celebrities and cover a wide range of categories including makeup tools, colored cosmetics, nails, perfume and beauty devices, etc.
During the show, 428 buyers showed their strong interest in 378 samples from BeautySourcing's 32 partner suppliers. These buyers mainly came from northern, central and southern Europe. Few of them came from Turkey, India and other countries and regions. Looking from the nature of them, 33% of the buyers were local European producers looking for suppliers, 24% were brands and 13% were distributors and agents.




What TRENDS and INNOVATIONS did we identify at the show:

Packaging suppliers sourcing trends: new materials and new formats especially with the refillable aspect of beauty, biodegradable packaging material (PLA, Bamboo, Coffee Ground)
It is a truth that today most beauty packaging is still single-use and ultimately goes into landfills. As brands and consumers become increasingly eco-conscious, packaging suppliers pay high attention to the recycling, refillable and even biodegradable possibilities. Thus, clean beauty, natural cosmetics and sustainability became the focus of the event. The event showed that packaging suppliers tried to use recyclable materials and refillable systems to reduce packaging waste. Moreover, PLA, bamboo, and coffee grounds offered a renewable, compostable and biodegradable option for packing cosmetics. The on-site activities reflected that suppliers were scrambling to dabble into these directions to make their packaging more eco-friendly.


Home beauty devices incorporate multiple functions into one tool, creating healthy and natural results.
Due to the impacts of the COVID-19 pandemic, people's demands for self-care treatments at home are rapidly growing. At the event, the home beauty device also became a focus. The manufacturers and brands worldwide sought to present their innovative designs to meet the at-home self-care demands. Their at-home beauty device covered various application scenes, including acne treatment, hair growth or hair removal, cleaning tools, skincare and rejuvenation, among others. For numerous scenes, high technologies hold the key to treatment functions. Advanced technologies including radiofrequency, LED light therapy, laser, galvanic current, vibration therapy, microdermabrasion and microcurrent make it possible for people to enjoy their facial treatments as effectively and safely as they do in salons. Some of these technologies are integrated into one device to create multiple results.
RF face massage device
from
HIEE
is a tend following example. It incorporates RF, EMS, EP, ION, VIB, LED into the device. Multi-pole RF radio frequency could effectively activate the skin and help to ensure skin elasticity. EMS microcurrent tightens and lifts the facial skin. The ion introduces nutrients and helps skincare effectively absorb ingredients. The LED lights have different wavelengths and create different treatments: red helps skin restore vitality and elasticity while blue creates skin oil and moisture balance. The 316 Stainless steel and 24k golden plated energy contacts enhance the treatment effect.

Another example is
Hongwang Nicemay
's
RF eye massager with the EMS function
. The device integrates radio frequency, EMS and photon therapy functions with 4D treatment heads. It can perfectly satisfy those who have eye skin rejuvenation and anti-wrinkle needs. But don't just think of it as an eye massager. It can be applied to the whole face. With such a portable device, users can enjoy a facial massage anywhere they want.
All in all,
BeautySourcing
, as a professional vertical platform in the beauty industry, will continue to discover and share region-specific beauty trends and innovations. Follow us to find more information:
https://www.beautysourcing.com/