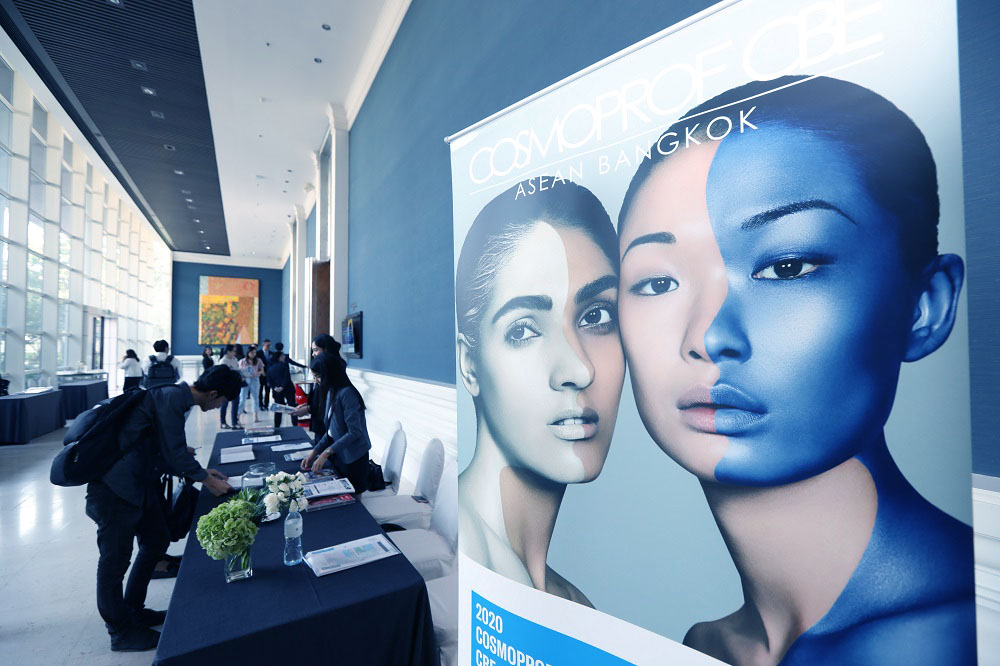 As a consequence of the COVID-19 pandemic, the organizers of Cosmoprof CBE ASEAN-Informa Markets, China Beauty Expo (CBE) and BolognaFiere - announced on 8 October, 2020 the first edition of the event, initially due to take place on 14-16 December 2020, will be rescheduled to September 2021 at the same venue.
According to the organizers, the government has maintained the closure of its borders, with mandatory quarantine for all guests arriving from other countries, although in Thailand the number of confirmed cases has maintained at '0' for many days. This provision would limit the regular running of a trade show such as Cosmoprof CBE ASEAN. To guarantee exhibitors and operators a productive business experience matching their expectations, organizers have decided to reschedule Cosmoprof CBE ASEAN to 2021.
"Cosmoprof CBE ASEAN is the first event that brings together international stakeholders on the one hand, and producers and operators from Southeast Asia on the other, to evaluate the economic potential of this market, which is still unexplored, - says Gianpiero Calzolari, President of BolognaFiere. - The importance of this event for our entire community requires us to take the necessary measures to ensure a high quality and safe experience, with the same prestige characterizing the Cosmoprof brand in the world."
Although we're unable to meet face-to-face, Cosmoprof CBE ASEAN will continue to support the industry in the coming months. In fact, exhibiting companies and local buyers will be able to participate in the first-ever Cosmoprof Asia Digital Week, scheduled to be held online from 9 to 13 November. This virtual beauty event presents a unique opportunity for companies to tap into Cosmoprof Asia's international database and expand their businesses.
Mr. David Bondi, Senior Vice President of Informa Markets says "Cosmoprof Asia welcomes all exhibitors and buyers of Cosmoprof CBE ASEAN to join our first ever Digital Week, offering massive business matching opportunities for the global beauty industry. All participants are encouraged to leverage the resources and platform of this special initiative to develop concrete business relationship with our beauty community and exhibiting companies."

Ms. Sang Ying, Deputy General Manager of Shanghai Baiwen Co Ltd. says "The Chinese government is actively encouraging digital innovation and entrepreneurship by giving companies room to experiment and offering support. China's digital transformation is already having a profound impact on its own economy. We are really excited to embrace the Cosmoprof Asia Digital Week and how Chinese companies can benefit from their participation."

Cosmoprof Asia Digital Week will offer buyers and companies an innovative matching platform, thanks to the digital technologies implemented by the organizers. A virtual showroom and tools to manage meetings in live chat or video rooms will be available to registered users.
Buyers and operators will also be able to participate in a host of webinars dedicated to the recent transformations in the industry, with the participation of industry leaders and key opinion leaders.
During the Cosmoprof Asia Digital Week, a selection of Cosmopack Asia companies will accompany visitors on Virtual Factory Tours where they can view the supply chain processes online. Market research and trend reports edited by Resource Hub will also be available.
Source: http://www.cosmoprofcbeasean.com/en-us/news-room/press-release