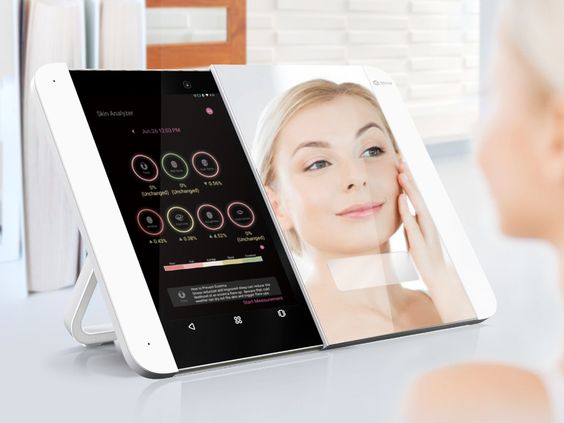 Beauty is an agile industry, making it one of the most vibrant of all retail businesses. It's consistently evolving and finding new ways to bob and weave through sudden changes in the market.

Much like we're seeing amid COVID-19.

If you've been paying attention, then you've witnessed how beauty businesses are adapting. For example, offering specialized skincare products for those with mask acne. This is a new problem, and already the beauty industry is attempting to fix it.

We're also seeing a growing technology trend (and have since before COVID) among beauty businesses. There's a shift happening that's both streamlining operations and improving customer experiences.

So let's take a look at how technology is transforming beauty brands.

1. Better Personalization with Artificial Intelligence
Artificial intelligence is at the front and center of a lot of marketing strategies. It includes tools that automate interactions with consumers, making it easier to provide 24-7 customer service and sales support.
Imagine visiting a beauty website with hundreds of different shades of makeup. So to help you find what you're looking for, you text the chatbot on the page. It asks a series of questions, helping pinpoint the best options to try.
This not only improves the experience but increases the odds of a sale happening.
But how will the customer know which of the shade options to choose from?

2. Virtual Experiences Available at Home
You're at the same beauty website and have narrowed down your search for the perfect shade, thanks to the help of a chatbot. But now, you're faced with either choosing the wrong one and having to deal with returns. Or you have to order them all and still have to deal with sending back the ones you don't like.
Beauty businesses are reducing the number of returns it receives by introducing virtual experiences. This is possible using technology, such as augmented reality (AR).
This enables you to see how the different shades look on you before you purchase. It's a clever way to help customers feel more confident in buying makeup items they've never used before.

3. On-Demand Makeup Using a Printer
Well, not an actual printer (obviously), but there's a device beauty businesses are developing that works similar to one. You can now find options that help consumers put on makeup faster.
There are several products already on the market from various brands. One example is the Opte wand sold by Proctor and Gamble. It recently showcased the makeup printer, which scans your skin and applies tiny amounts of foundation to age spots, blemishes, and burst blood vessels.

It does with great precision, thanks to its built-in camera taking 200 frames per second. It also has a microprocessor that analyzes data to tell the difference between light and dark areas.
We wouldn't be surprised to see this trend evolve into 3D-printing, AI-powered image analysis, and facial recognition technology. This would empower beauty brands (and influencers) to sell/share makeup looks directly to consumers.

4. Smart Skincare Gadgets
Here's a broad market for beauty brands to tap into, and many already have. Taiwan's New Kinpo Group is one, introducing the HiMirror. It's a mirror designed to scan your face for fine lines, red spots, wrinkles, and brightness levels.
The mirror then rates those factors from poor to good. Then based on its analysis, it'll make personalized recommendations for the user.
Another brand has a similar product, but it's a smartphone app. Olay's Skin Advisor offers similar tips. And the brand's new app will even allow you to simulate how you'll likely look in the future (using AR technology).
Other brands are creating products that enable consumers to get spa-like treatments at home (i.e., LED light therapy).

5. Companion Apps for Skincare Products
We already discussed some of the apps created by beauty businesses right now. But there's an overall trend we're seeing as it pertains to companion smartphone apps.
Beauty businesses are finding unique ways to build apps that help customers use their products and obtain the look/skin they desire. These apps double over as helpful aids to customers and sales machines for beauty brands.

6. B2C Beauty Businesses Go Virtual
With more people are home, beauty businesses have to become proactive about reaching out to their customers. Using paid ads and social media can help but isn't enough to establish relationships and build loyalty. This makes it, so brick-and-mortar beauty businesses have to go digital.
One way beauty brands are doing this is with webinars. These are excellent tools for showcasing new products, sharing beauty tips, and hosting makeup tutorials (i.e., how to do makeup like Beyonce).

7. B2B Beauty Suppliers Launch Virtual Tradeshows
Tradeshows are canceled, and no one knows when they'll return. So to replace them, beauty suppliers are going digital. Virtual tradeshows are becoming the new norm for connecting with beauty businesses in need of their ingredients and supplies.
You'll find more B2B beauty brands hosting technical seminars, creating branded content, and shifting to other online methods to keep business going.

Stay Connected with Your Beauty Suppliers and Manufacturers
Maintaining a beauty business requires constant innovation to remain resilient in today's world. This can be challenging now that it's more difficult to connect with beauty suppliers and manufacturers in-person.
So to help make this easier, you can use B2B beauty platforms like BeautySourcing.com. You can visit our site to see and register for virtual beauty events. And you can sign up to find thousands of beauty suppliers and manufacturers (including OEM, ODM, and OBM).
The platform enables you to search by product, ingredient, event name, or product category. Finding what you need has never been easier. But don't take our word for it -- sign up for free today!