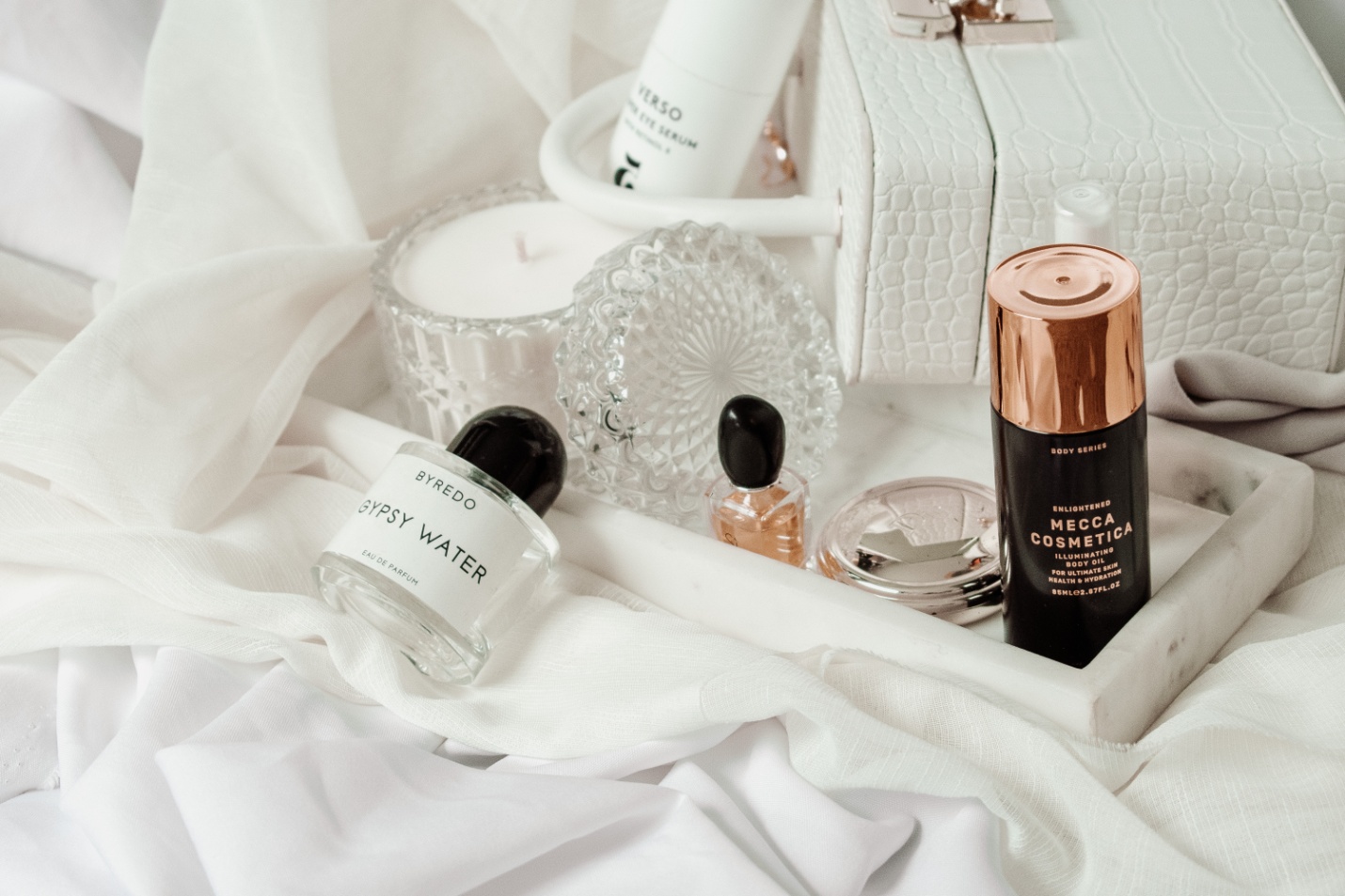 Since the turn of the century, the beauty industry has witnessed a steady flow of revenue. We watched it increase from $30.8 billion in 2003 to $52.3 billion in 2009. What makes the beauty industry unique is that it's a non-essential product that still performs well during economic downfalls.
For example, in 2008 and 2009, we saw the beauty industry in the U.S. reach its peak at $52.4 and $52.3 billion when many companies and families were struggling financially. And we can say the same during the most recent economic downturn. In 2020, the beauty industry was at $49.2 billion, which is only a $300 million decrease from the prior year ($49.5 billion).
If there's one thing we can say about the beauty industry is that it's a resilient sector. This is why the global beauty industry is expected to reach an astounding $438 billion by 2026.
So does it come as any surprise that it's often the target of acquisitions and big investments? Not at all.
In fact, we watched some of the largest mergers and acquisitions occur over the past few years. Let's take a look at this trend and why it's likely to continue.
2019: A Trend of Acquiring Natural Fragrance Brands

In 2019, we saw a rise in companies merging with and acquiring beauty companies. And we also witnessed more business partnerships within the beauty industry. But the sector that appeared to get the most burn was in fragrances.
One major deal we saw that year was from Swiss major Givaudan, which acquired Albert Vielle, a French naturals specialist. What's notable about this acquisition is that it positioned the company to dive deeper into the naturals market (this was its 2020 strategy).
Givaudan then acquired Drom, a fragrance house headquartered in Munich, a couple of months later. By the fall, the brand decided to acquire yet another fragrance entity. -- this time in the U.K. -- called Fragrance Oils, which was a specialty manufacturer. This was a smart move, since the manufacturer specialized in natural herbals, further aligning its path towards natural beauty products.
But it wasn't just Givaudan making big moves in 2019. We also saw L'Oreal acquire Clarins Group's entire fragrance portfolio. This included brands like Mugler and Azzaro, among others. Then in September, Firmenich, a French fragrance major, took a minority stake (10%) in Robertet, a French natural ingredients specialist.
2020: Major M&As Despite a Looming (and Ongoing) Pandemic


While the world went under lockdown and ordered to partake in in-home quarantines, the beauty industry refused to rest. And how could it, especially during a time when beauty habits and preferences had altered? The beauty industry needed to shift to meet the new daily needs of its consumers -- much of which consisted of small and large acquisitions. This includes global beauty giants like P&G and L-brands to suppliers and Indies.
At the start of the year, before the pandemic reared its ugly head, P&G announced its intent to acquire Billie, a subscription-based DTC (direct to consumer) female body care brand. It's most notable for its women's shaving supplies ad premium line of products for body care. Some renowned items it offers include razors wrapped in charcoal shave soap and a magnetic holder and handle for easy storage.
This was a solid move for P&G since the deal aligns with its female grooming portfolio (Braun, Venus, and joy brands).
Aside from focusing on natural ingredients, major beauty companies zoned in on merging with brands that successfully connected with their audience. Having a connection with consumers is something that was and still is critical if brands want to succeed. Consumers are currently looking to do business with companies that instill trust and prove to care about the same issues they do.
And that's what made L'Oreal's acquisition of Thayers Natural Remedies an excellent idea. In June 2020, the company made the move to not only acquire the brand but also its 170 years of heritage. Thayers built a line of top-rated skincare products, and also did a quality job of forging strong relationships with its customers. It's a highly-relevant skincare company today, so we should see great things come from this acquisition.
We also saw a few other major acquisitions with brands in the natural beauty sector. For instance, Beiersdorf acquired Stop the Water While Using Me brand, an indie brand that launched in 2011. It sells natural cosmetics and promotes sustainability and protecting the earth's resources, which are important discussions we're having around the world today.
Then e.l.f. Beauty did something similar by acquiring a cruelty-free beauty brand called W3II People (a $27 million deal). The acquired's product line consisted of products that contained no fillers, such as propylene glycol, petrochemicals, or petroleum byproducts. The brand already has a large and growing presence at retailers like Target and Wholefoods and online at Ulta.com, Amazon, and its own website.
What Are the Reasons Behind All the M&As within the Beauty Industry?


This is an excellent question. The mergers and acquisitions that we've seen over the past few years are nothing short of an overall strategy to take advantage of a growing opportunity. But there are several other reasons behind this continued trend. Here's a look at three.
Keeping Up with the Latest Trends
As we already mentioned, natural beauty is a big deal right now, which is why we're seeing more companies acquiring brands offering natural solutions. If there's one thing we know about the beauty industry consumers is that they love to explore and test new brands and products.
This is especially true among Millennials and GenZ buyers. Now, these groups are typically difficult to target because they change consumer behavior rather rapidly. They also have particular needs they want to cater to when shopping for beauty products. For instance, this is the group that desires clean beauty and natural cosmetics. Hence the rise of the indie brands offering these product line-ups.
Testing Out New Business Models
Consumer behavior has changed drastically across the world. For one, more people are now using the internet more than ever, which means more orders being placed online. This has forced brick-and-mortar companies to rethink their localized business models and provide remote offerings.
For example, opening up an e-commerce website for customers to place orders. Or adding curbside pickup and delivery services (like the grocery sector has excelled in).
But this isn't always a simple task. Not all entities have the means to transition into such models on the fly, which makes acquiring smaller and more agile companies that compelling to investors.
A lot of the beauty startups that launched this past year began with a DTC-only model. Going this route saves money, increases profit margins, and enables brands to communicate directly with the customer. This is why beauty corporations are snatching up these startups as quickly as possible.
One case of this was Unilever acquiring Dollar Shave Club back in 2016. This combination created a new business model involving the DTC approach and subscription-based model for the shaving category. In just a few short years, the company is now valued at around $1 billion.
Adopting Digital Platforms and Tech Solutions
Global beauty corporations aren't digital natives, nor are they keen on using big data and AI to reinvent the wheel. So what better way to capitalize on the trends towards digital and tech than to acquire beauty companies that are already adopting and implementing them?
Consumers today demand personalization, which requires the need for big data and AI. And they're using digital platforms throughout the buyer's journey to research, find, and buy beauty goods. The beauty brands excelling in this front are the beauty tech startups.
By investing in these startups, corporations can build intimate relationships with their consumers and offer the personalization they expect.
One such acquisition on this front involves ModiFace, a startup in Toronto, Canada, which offers AI-powered skincare diagnostics using augmented reality and artificial intelligence. It's used to try on different hair colors and makeup virtually (perfect now that many of us are housebound).
Make Sure You're Staying On Top of Beauty Industry Trends


So what are you doing to ensure your beauty business continues to thrive? Whether you're looking to appeal to investors and major corporations for an M&A or want to continue your growth independently, you'll need to stay abreast of the latest trends in the beauty industry.
This will empower you with the knowledge to position your beauty brand as a go-to source for consumers. For instance, maybe you'd like to jump aboard the natural cosmetics bandwagon. You can do so by finding suppliers of natural ingredients. This is easier to do with the right tools.
At Beauty Sourcing, we offer a B2B platform beauty businesses can use to connect with OEM and ODM suppliers and manufacturers. We are the connection between the beauty retailer and the source, so if you'd like to get started searching through our large global database, then register with us today!