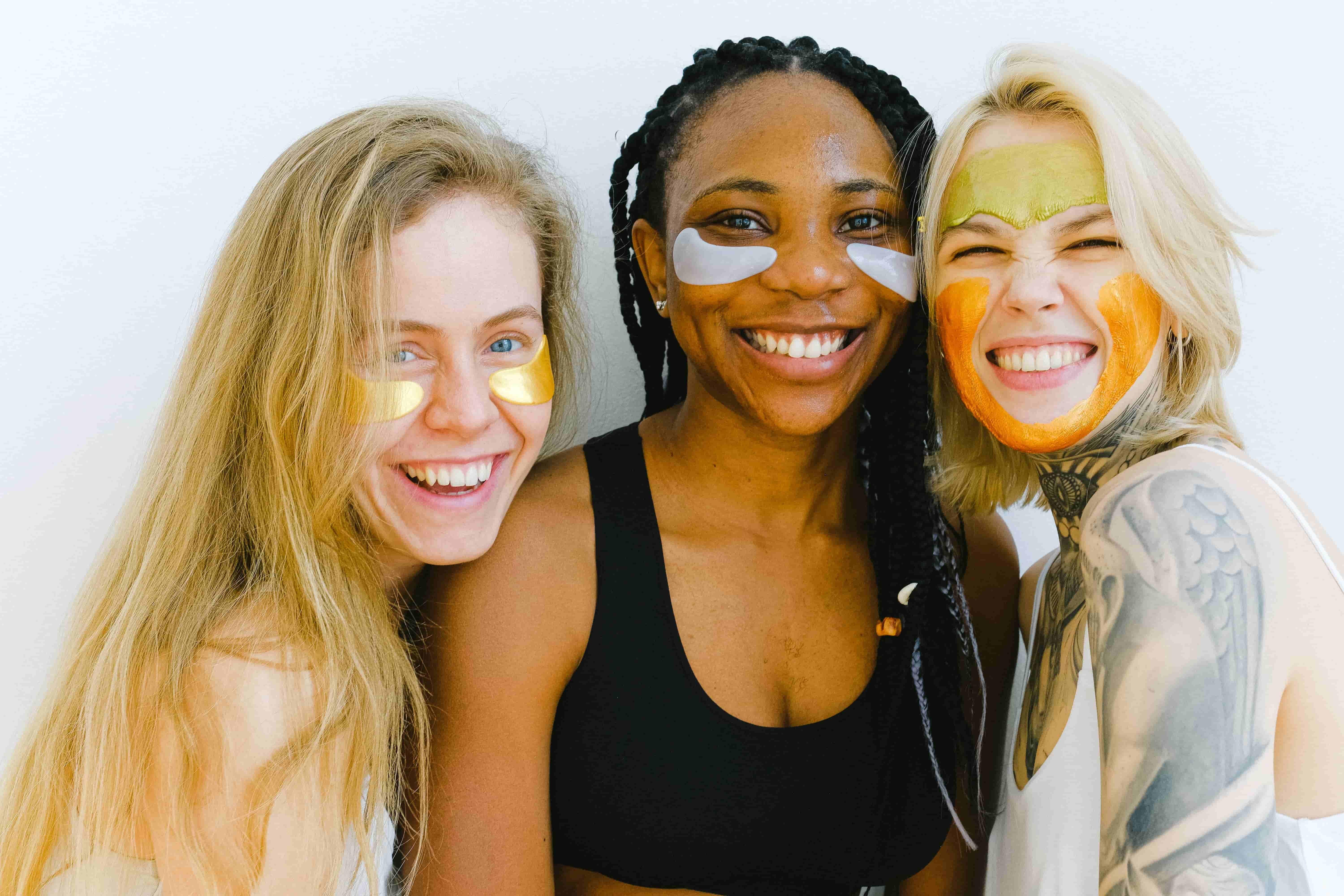 Globally, the industry is strong and only getting stronger — predicted to exceed $716B by 2025. The kindling: expansion of cosmetics marketing through digital channels and the ensuing attraction of more customers willing to pay higher prices for higher quality.

By geography, Asia-Pacific and North America dominated, accounting for more than 60% of the cosmetics market combined.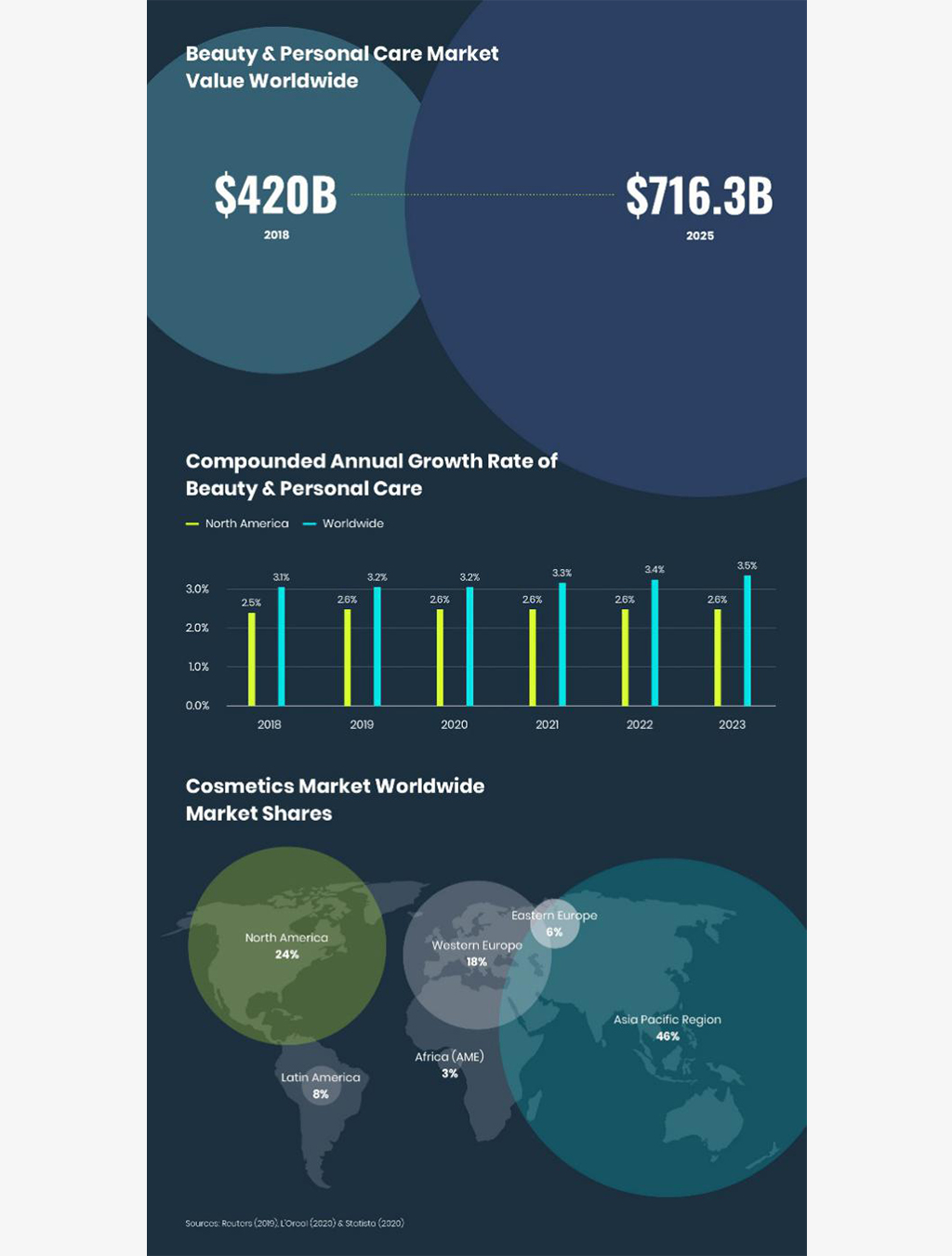 With shopping preferences differing from country-to-country, cosmetics brands looking to rule on a global scale must follow a customer-centric model that intersects both digital and physical channels.

In the case of the US, offline shopping still rules — luring a whopping 81% of the market in-stores. At the same time, offline's market share is also declining while online climbs.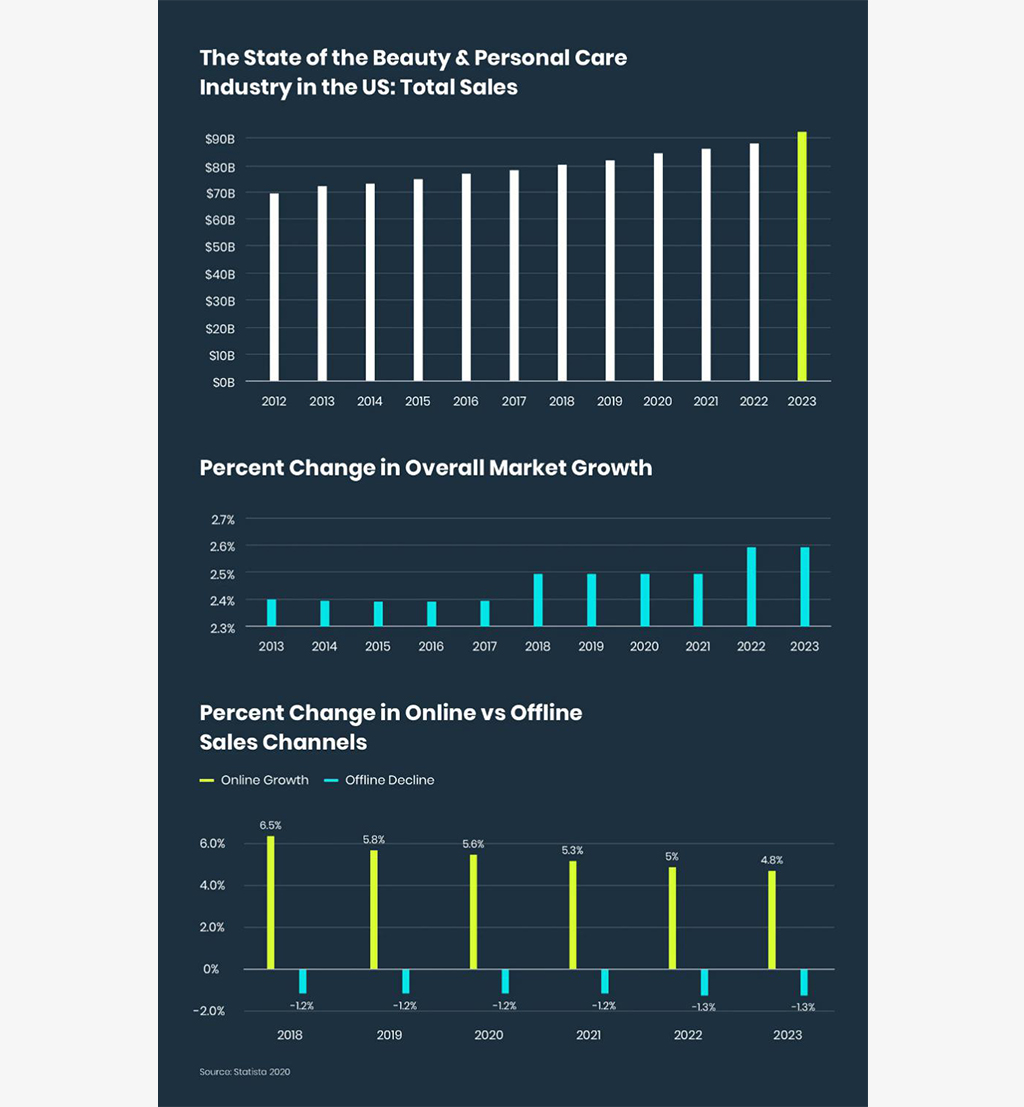 The US was even considered the most valuable beauty and personal care market in the world in 2018. Starting the trends and then setting the standards for other countries to follow suit.

Though the distribution methods are evolving, traditional retail chains still play the largest role in the US.

Aside from multi-brand conglomerates like Walmart and Target, the biggest vertical-specific players are Ulta and Sephora — the leading health and beauty retailers based on sales.
The same holds true on a worldwide scale.



Growing Inclination Towards Organic, Natural, and Cruelty-Free Products

Growing consumer concern is causing an increase in the demand for organic and natural skincare, and "clean beauty" products. For instance, Sephora announced the launch of the company's new category called Clean at Sephora, that clearly establishes which of their products are formulated without controversial ingredients. Those that meet Sephora's ingredients guidelines are termed as "clean" and receive the retailer's Clean at Sephora seal. Similarly, consumers in the market tend to prefer products with the label ''cruelty-free'', denoting that animals are not harmed in the testing of such products. For instance, Wet n Wild is a popular cosmetics products brand in the United States that markets its products as cruelty-free. Moreover, in recent times, there is a sharp rise in the number of beauty blogs and social media accounts that are committed to the benefits of going chemical-free, which has worked in favor of natural and cruelty-free products by enhancing consumer's information.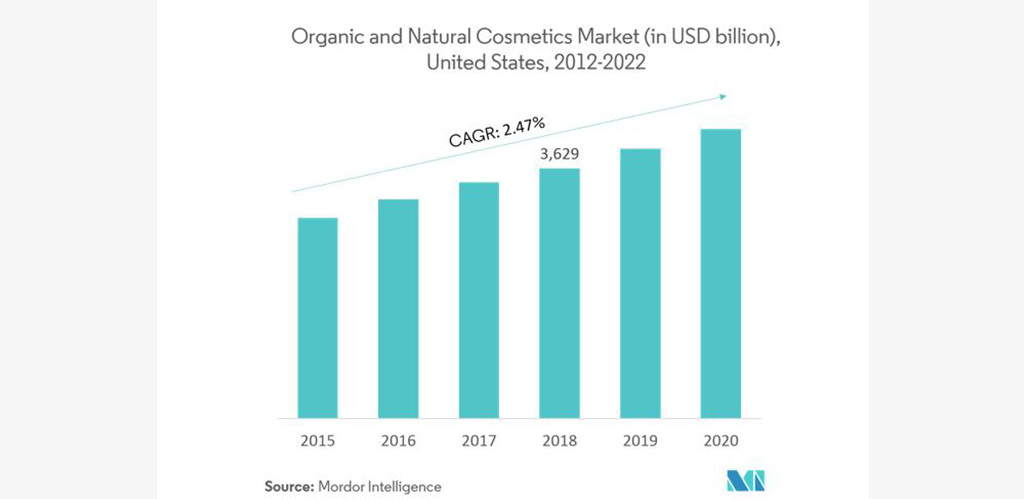 Increased Spending of United States Consumers on Beauty and Personal Care Products
Consumer spending towards cosmetics and other personal care products has witnessed a rise. For instance, according to data published by Bureau of Labor Statistics, the average annual expenditure on cosmetics, perfume and bath preparation products per consumer unit in the United States is forecasted to grow at a CAGR of 5.55% in the period 2015-2017. Due to the increase in advertising and promotional activities, the consumers in the United States are still buying these cosmetics. Additionally, often the advertisements are focused towards a specific age group, such as adolescents or ageing-women, in an effort to incluence and target specific population groups. Due to frequent product innovation in the market, consumers are being introduced to new types of products, and trying them out. Consumers generally want to ensure that they buy products that suit their skin or hair type and thus, product trial is important in the cosmetics market. Thus, companies such as Avon and Estee Lauder Company have been increasing their marketing expenditures towards such activities in recent years.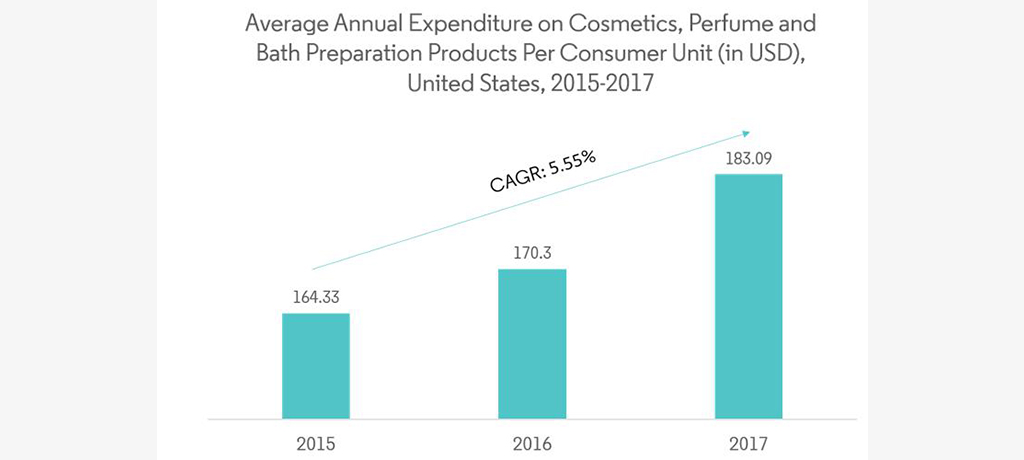 Competitive Landscape
Major players in the United States beauty and personal care products market include Unilever, Loreal, The Estee Lauder Companies Inc., and Proctor and Gamble with popular brands such as Dove, Maybelline New York, M.A.C., and Olay— made up a whopping 81.7% of worldwide beauty revenue in 2019. The market is highly competitive with players actively competing in terms of new product launches, mergers and acquisitions, expansions and partnerships. Additionally, leading players are investing heavily on research and development to come up with product innovations.


Reference:
https://commonthreadco.com/blogs/coachs-corner/cosmetics-marketing-industry-trends
https://mordorintelligence.com/industry-reports/united-states-cosmetics-products-market-industry