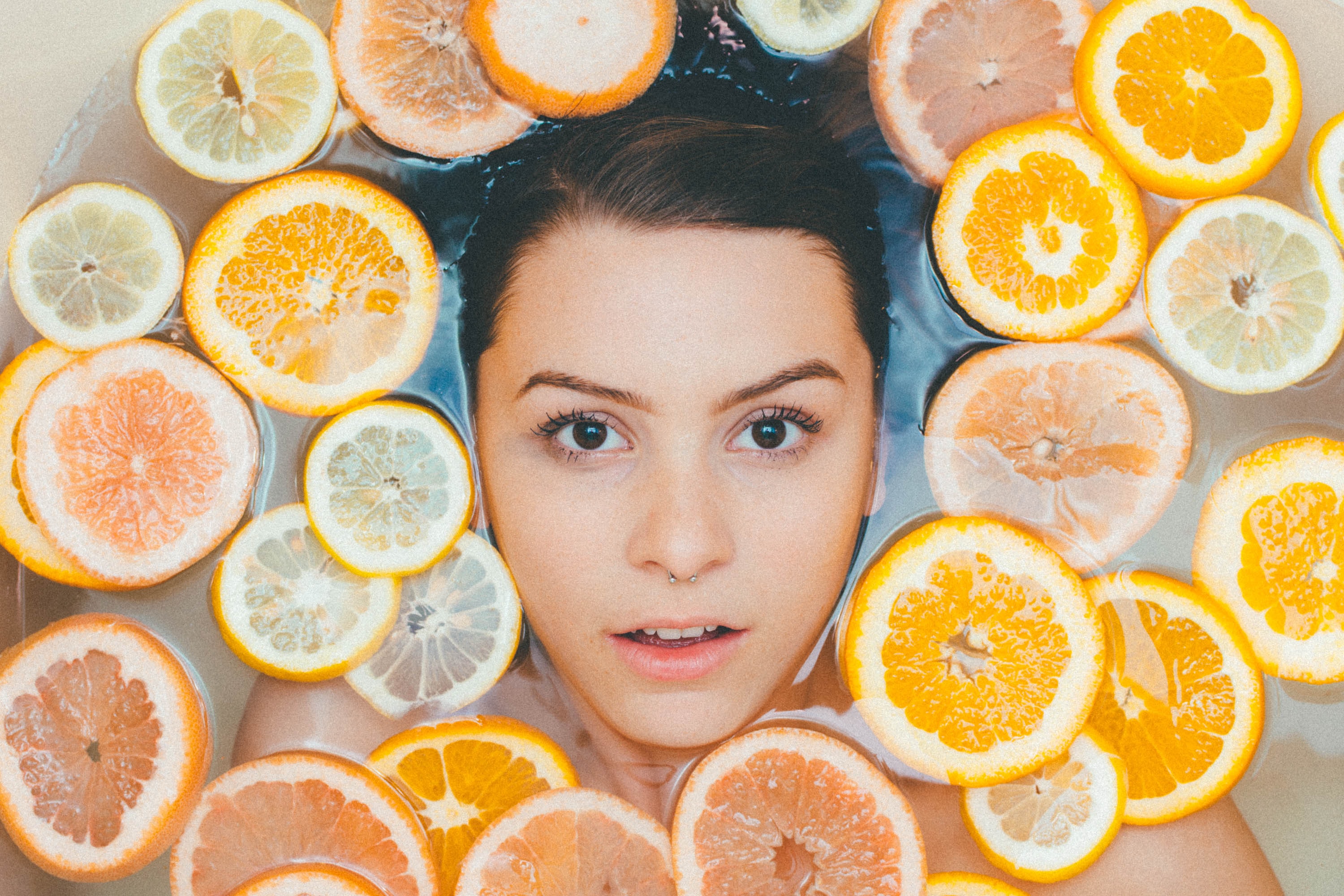 1. Overview
The cosmetics and personal care industry has made important contributions to the economies of countries and regions in Europe.

According to statista, revenue in the Beauty & Personal Care market amounts to €113,206m in 2020. It is expected to grow annually by 2.0% (CAGR 2020-2023). The market's largest segment is personal care with a market volume of €48,535m in 2020.

The largest national markets for cosmetics and personal care products within Europe are Germany (€13.8 billion), France (€11.4 billion), the UK (€10,9 billion), Italy (€10.1 billion) and Spain (€7 billion).

There are various personal care products in the European beauty market, such as shower gels, men's beauty products, facial care products, and cosmetic products, such as eye makeup, hair styling, facial cosmetics, nail products and coloring products. There are many types of distribution channels, such as pharmacies / drugstores, supermarkets / hypermarkets, convenience stores, and even online retailers.

2. Consumer behavior
In Europe, it is reported that about 72% of consumers of all ages use beauty and personal care products because they firmly believe that it can help keep a healthy and beautiful life. 80% of consumers identify cosmetics and personal care products as important or very important in building up self-esteem. The consumer mindset towards a better life has made Europe a potential market for new innovations and launches in the beauty and personal care market.
The vast majority of Europe's 500 million consumers use cosmetic and personal care products contributing to well-being and healthy lifestyles, and positive self-esteem every day. Ranging from antiperspirants, fragrances, makeup and shampoos, to soaps, sunscreens and toothpastes, cosmetics play an essential role in all stages of our life (Cosmetics Europe, 2017).
European consumers spend an average of €135 a year to buy cosmetics. Kantar Worldpanel showed that the average annual consumption of cosmetics increases with age. Therefore, the consumption of elderly consumers is much larger than that of young consumers. For example, in the UK, consumers over the age of 65 spend more than three times as much on "health and beauty" as consumers between the ages of 19 and 24. European women over the age of 60 spend three times as much on skin care as women under the age of 25.

3. Beauty companies in Europe
The upstream and downstream value chain of the European cosmetics industry mainly includes raw material companies, cosmetic manufacturers, finished product distribution and wholesalers, and cosmetic retailers & beauty service centers and consumers.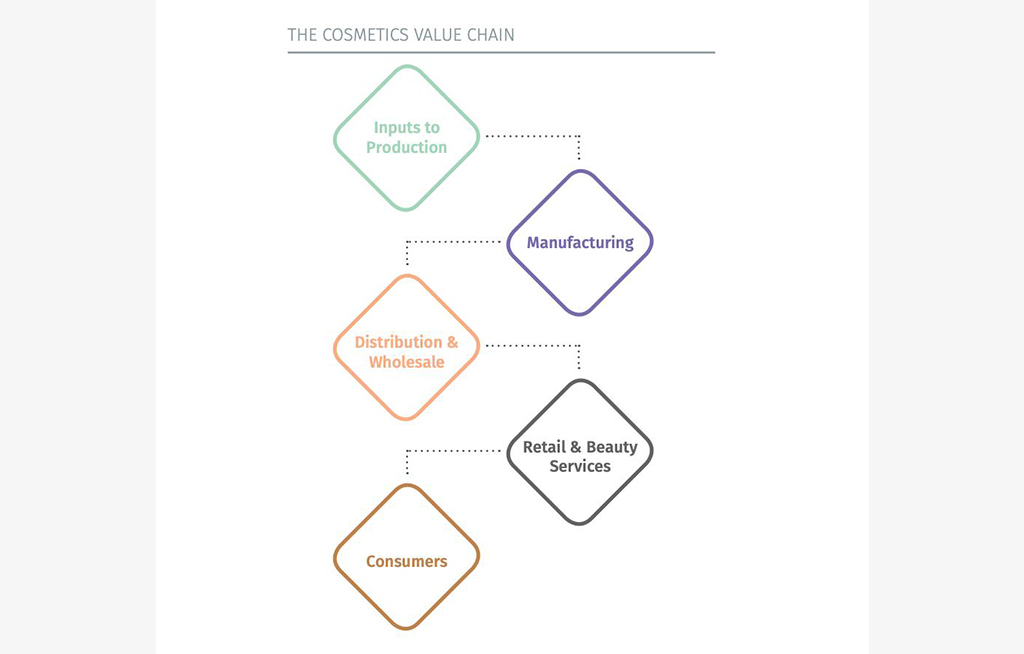 (Source: Cosmetics Europe, Socio-economic Contribution Of The European Cosmetics Industry 2019, June, 2019)

Although the vast majority of companies in the cosmetics industry are small and medium-sized enterprises(SMEs), the strength of the industry lies in the coexistence of large companies and SMEs. According to the data provided by Euromonitor International (2019), there were 5,800 small and medium-sized enterprises producing cosmetics in Europe in 2018. Many enterprises can be called micro-enterprises because there are less than 10 employees in these companies.



(Source: Cosmetics Europe, Socio-economic Contribution Of The European Cosmetics Industry 2019, June, 2019)

Cosmetic raw material companies include cosmetic ingredients, product formulations, industrial design, packaging ingredients, etc. In terms of inputs to production, there are over 100 companies manufacturing cosmetic ingredients in Europe. (EFfCI, 2018)

In 2015, there were about 23,000 cosmetics wholesalers in Europe, the majority of which were located in Italy (17%), Spain (15%) and France (10%). (Eurostat, 2015)

Consumers can purchase products through cosmetics retail channels. European cosmetics retailers include supermarkets, pharmacies and drug stores, department stores, direct sales stores, specialty stores, beauty salons, and increasing e-commerce platforms. In 2015, there were approximately 46,400 stores specializing in cosmetics in Europe (Eurostat, 2015). According to Cosmetics Europe research, specialty stores account for less than 26% of total cosmetics sales, which means that the total number of retail stores selling cosmetics may be significantly higher than 46,400.



(Source: Cosmetics Europe, Socio-economic Contribution Of The European Cosmetics Industry 2019, June, 2019)

European beauty service centers include beauty salons, nail salons, hair salons, spas, etc., where cosmetics are available for consumers to have beauty and skin care management . Now, more and more beauty service centers start to sell cosmetics products to consumers. Although there is no complete statistical data showing how many beauty service centers in Europe are using and selling cosmetics, information from five countries (France, Germany, Italy, Spain and the United Kingdom) shows that at least there are 77,750 beauty salons (Clarke, 2009).
Reference:
1. Mordor Intelligence, Europe Beauty And Personal Care Products Market - Growth, Trends, Forecast (2020 - 2025)
2. Cosmetics Europe, Socio-economic Contribution Of The European Cosmetics Industry 2019, June, 2019
3. Kantar Worldpanel, 2014, according to Statista report, 2015
4. Credit Suisse, 2013