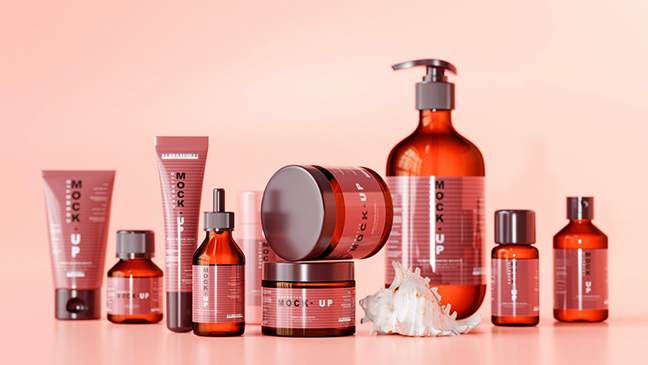 Functional cosmetics become popular among consumers as a result of further market segmentation and consumers' growing awareness of anti-wrinkle, elasticity-boosting, pigment-fading and whitening functions. A research suggests that the market value of global functional cosmetics stood at USD 2.9 billion in 2020, and it is expected to grow to USD 4.9 billion by 2028.
Generally speaking, the packaging of functional skincare products moves toward simplicity. For packaging style, it looks more like cosmeceuticals. Besides, functional skincare products have stringent requirements for packaging compatibility and protectiveness. The formula of functional cosmetics usually contains many active ingredients. If these ingredients lost their potency and efficacy, consumers may suffer from ineffective skincare. Hence, it is necessary to ensure that containers have excellent compatibility while protecting active ingredients from contamination or alteration.
At this moment, plastic, glass and metal are the three most common materials of cosmetic containers. Plastic, as one of the most popular packaging materials, has some advantages over other materials—lightweight, strong chemical stability, easy surface printing, and excellent processing performance. For glass, it excels in light resistance, heat resistance, no pollution and luxury sense. Metals have good ductility and falling resistance. Each of them has its own merits. But among others, acrylic and glass have long dominated the packaging market.
Acrylic or Glass Best for Functional Cosmetics? A Look into their Similarities and Differences
The luxury sense in touch becomes especially important as packaging visually goes simple. Both acrylic and glass containers can meet consumers' demands for luxury sense. High transparency and gloss make them look high-end. But their differences lie in: glass bottles are heavier and feel cooler; glass is 100% recyclable. Both acrylic and glass containers have better compatibility with inner contents, ensuring the safety and efficacy of active ingredients added to functional skincare products. After all, once the active ingredient is contaminated, consumers are at risk of allergies or poisoning.
Dark Color Packaging for UV Protection
Besides the compatibility, possible contamination caused by the external environment is also a big concern for packaging manufacturers and brands. This is of particular importance for functional skincare products as the added active ingredients may react with oxygen and sunlight. So, some light-resistant dark containers become the best choices. In addition, overlay of techniques is becoming a mainstream method to protect active ingredients. For light-sensitivity functional cosmetics, packaging manufacturers usually suggest to overlay an electroplating coating on dark color spray finishing; or overlying an electroplating opaque coating on solid color spray finishing.
Anti-oxidation Solution—Airless Bottles
Worry about oxidation of active ingredients when applying functional products? There is a perfect solution—airless pump. It works very simply but effectively. The retractive force of the spring inside the pump helps to keep air out. Every time users pump, the little piston at the bottom moves up a little, and then the products will be squeezed out. For one thing, an airless pump prevents air from coming in and protects the efficacy of inner active ingredients; for another thing, it reduces waste.
Here is a shortlist of premium suppliers providing innovative acrylic, glass and airless packaging solutions.
Established in 2005 and located in Shanghai, Demei Industrial Limited is specialized in designing and manufacturing acrylic and glass cream jars, lotion bottles, perfume bottles and essential oil dropper bottles. Demei's production capacity is strong. It employs 2000 staff and owns five affiliated factories covering more than 80,000 square meters. Its annual output exceeds 100 million sets. Product quality is given top priority there. And it has been certified with ISO9001, ISO14001, and QS. Strict quality control and innovative visual design make Demei popular in Europe and USA.
Headquartered in Anhui and founded in 2011, Anhui Mingzhuang Environmental Protection Technology Co., Ltd. professionally designs and produces all kinds of high-end plastic packaging and glass bottles. When designing and manufacturing, MZPACK TECH pays attention to the environmental impacts, and it has launched a series of eco-friendly containers with luxury looks. On a plant covering 4000 square meters, it is equipped with advanced production facilities and it is building a 100,000-level dust-free Purification workshop. It is also the owner of many patents and authoritative qualifications, such as ISO 9001. Based on strong manufacturing and development capacity, MZPACK TECH wins acclaim from brands in Europe, North America, Asia, and Australia.
Topfeelpack Co., Ltd. is a Shenzhen-based professional manufacturer, specializing in developing and manufacturing cosmetics packaging products. Main products include acrylic bottles, airless bottles, cream jars, glass bottles, plastic sprayers, etc. Through 11 years of development since 2011, Topfeelpack has built a GMP sterile workshop with the total workshop area reaching 60000 square meters and undertaken nearly 100 sets of private molds. By answering the call of sustainability, it has also incorporated the concepts of "recyclable, degradable, and replaceable" into more and more molds. With ISO 9001:2008 and SGS certification, Topfeelpack has been the Gold Supplier for 10 consecutive years.
Located in Shanghai, Queens Packaging Co., Ltd. has been a supplier specialized in plastic and glass packaging including jars, lotion bottles, airless bottles, etc. Queens Packaging constantly redefines these plastic and glass containers so that they look simple, elegant and luxurious. Its luxuriant imagery design team wins many design awards. This makes it possible for brands to select from a wide range of packaging from classic stock to unique design. Its manufacturing facility of 30,000 square meters has been certified with ISO 9001. So it is capable of offering quality packaging within a short lead time.
Related Products