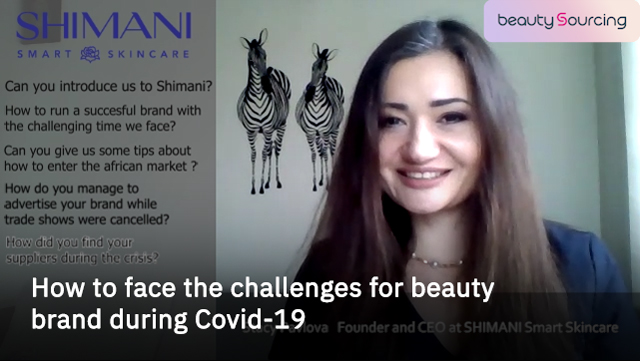 Stacy Pavlova, Founder and CEO of SHIMANI Smart Skincare, is a beauty entrepreneur and a business consultant with 17-years experience in the cosmetic and pharma industry on the African, Asian and ME markets. SHIMANI Smart Skincare is award-winning innovative dermo-cosmetics, created by their great team of scientists, who have also developed products for NASA. The unique patented formula of Smart series is a result of more than 3 years of R&D activities.
Stacy leverages her knowledge and experience to share how to run a beauty brand successfully in the challenging era.
How to run a successful brand with the challenging time we face?
SHIMANI Smart Skincare Started their brand at the very beginning of the crisis. "It was a great challenge…so we concentrated on the strategy of our business adapting to the new changes." Pavlova admits.
Makeup sales went down because of the lockdown. They spend more time at home to care their skin. In fact, many skin care brands did quite good performance last year. "It was very hard at the beginning, because it was a new brand-nobody knows it and we had to create brand awareness," Pavlova says, "But we were so active all the time. We managed to participate in 2 open air trade shows…we gave so many samples…so people can try our product." Pavlova points out that the most important during crisis is to be active. Taking action as much as possible to contact new people leads to more opportunities. "It's a cycle of economy." She says.
Can you give us some tips about how to enter the African market?
"The economic booming in Ethiopia is mainly because of the Chinese investment…also the Ethiopia market is quite a big one… and by 2050 Ethiopia is expected to be 200 million people and become the second populated country in Africa after Nigeria." Pavlova says.
There is also foreign currency issue. You'll have to wait 6 months to receive the foreign currency to pay your goods. "The most important is to find the right partner…who you can trust, you can do a lot of business…there are so many possibilities, so opportunities," Pavlova says, "The most important is to be the first." When it becomes easier to enter Ethiopia market, much more competition follows. Besides, import rate for cosmetic and food is around 65-70%, and it was really killing some business…with the local production, it's much easier to satisfy the demands, Pavlova says.
How do you manage to advertise your brand while trade shows were cancelled?
Online is great, giving chance for smaller companies who don't have the budget for advertising. SHIMANI stress social medias as advertising platforms, especially Tik-Tok and Linkedin due to their wide organic reach nowadays.
How did you find your suppliers during the crisis?
Despite of the lockdown caused by crisis, they took action very actively and tried every connection as well as call attention to their emergent needs. "There were many difficulties and challenges we overcame," Pavlova says, "But at the end we made it. We created our great product."