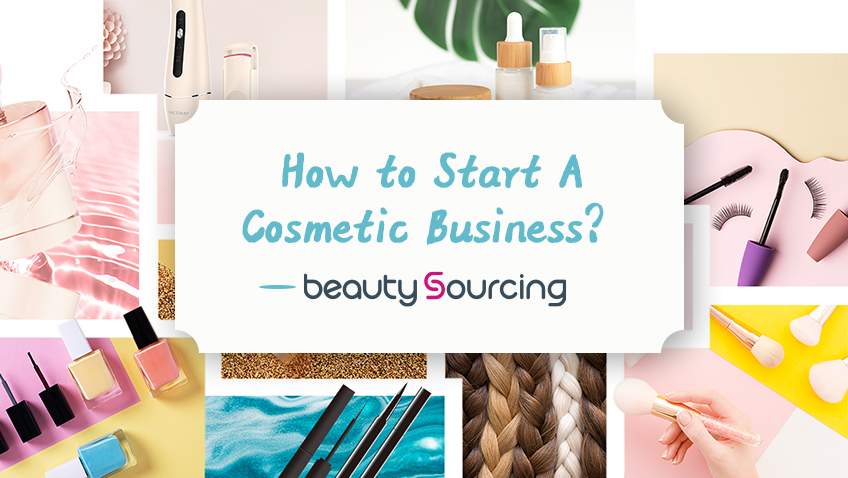 Since ancient times, pursuing beauty has been part of human nature. Today, Millennials and Gen-Z spark a wave of "Beauty Economy" in China and beyond. Using cosmetics seems to become a necessary daily routine. Even, masks could not stop people from pursuing beauty: masks lead to a spike in sales of eye makeup and skin care products; lip stick sales experience a stunning rise in the post-pandemic era. Many people have seen an opportunity in the beauty industry and want to get a share of the cake. But most of them don't exactly know how to start a cosmetic business. In this article, Beauty Sourcing will share some tips to start a cosmetic company.
Several Steps for A Good Starting
1. Understand market demands and trends
This is the first necessary step to start a business. China's art of war values "know your enemy and know yourself". That means it is necessary to know the market demands and trends. To this end, you can do some website researches, attend beauty exhibitions & events at home and abroad, and exchange ideas with some industry insiders like experts or consultants.
2. Identify a niche
Many starters may choose to operate in a niche market. Some of them may be dedicated to consumers with sensitive skins and provide them with products made from natural ingredients. Some of them may offer lip or eye makeup products. Others of them may operate in the packaging or beauty device niche market. Whatever, you need to determine your own area to start and hero products through some further market research.
3. Create a business plan
Starting a new business is not easy and many startups end with a failure. Lack of a comprehensive and detailed plan should be to blame, to some extent. To develop a business plan, you need to at least make specific the follow items:
Mission and purpose
Target consumers
Budgeting
Competitor analysis
Marketing strategies
4. Develop your own brand
If you want your products and services to leave a deep impression on consumers, then you need a strong brand. Design a unique, aesthetic logo that reflects your brand identity to attract people's attention.
5. Select suppliers
When finding suppliers, you need to consider:
Price
Quality of products and services
Shipping
Expertise
Certainly, you have many choices: manufacturers, trading companies, agents, etc. They all have their strengths and weaknesses. But as an experienced, professional insider, we suggest premium manufacturers may be the best choices. They have strict quality control, so you do not need to worry about the quality. Directly working with factories will avoid the costs paid for middlemen. They usually have mature logistics system. More than that, their expertise could offer both OEM and ODM services.
When selecting suppliers, some channels may be helpful:
Attending beauty events or exhibition
Friend Recommendation
Online search engine, such as Google
Some online platform, such as Alibaba, Made in China, Global Sources, or Beauty Sourcing
However, it is not easy to select some high-quality suppliers from the numerous domestic and foreign candidates.
6. Determine marketing and distribution channels
As a new startup, you can sell your products through a mix of channels, including online platforms (B2B, B2C platforms or social media), self-owned offline stores, local salons, spas or boutiques. Or you can also find some agents at beauty exhibitions.
Strong Beauty Supply Chain Management Is the Key
Strong supply chain management holds the key to all industry companies, especially startups. Effective supply chain management helps to shorten cash flow period, reduce risks, offer predictable revenue and ensure profit growth from the initial sourcing to end users.
In this supply chain ecology, suppliers at source play an important role in corporate development. For start-ups in the cosmetics industry, managing their suppliers properly is a way to get a handle on the business at its source. As mentioned above, it is not easy to find quality suppliers. However, Beauty Sourcing can help solve the following supplier management issues by means of its premium supplier alliance:
High procurement risk due to lack of effective supplier evaluation and selection system
Low efficiency when communicating with suppliers
Higher purchase cost
Complex sourcing procedures
Unable to see and touch real products
Outdated products
What Beauty Sourcing Can Offer
Strict selection of suppliers through qualification examination and field trip
Making 24/7/365 online communication available
All suppliers are factories offering favorable prices without any middlemen costs
Simple sourcing procedures: directly inquiry or compare prices on Beauty Sourcing
Making it possible to see and touch real products: samples are displayed on offline beauty events or you can apply for free samples
Beauty Sourcing will recommend trending product on a regular basis
At Beauty Sourcing, we really hope the above-mentioned tips could help you a little when you want to start a cosmetic business. We have 2,255 premium Chinese suppliers who have rich experience and strong manufacturing & innovating capacities. If you are selecting suppliers now or plan to switch some of them, our shortlist of suppliers may save you much time and energy!