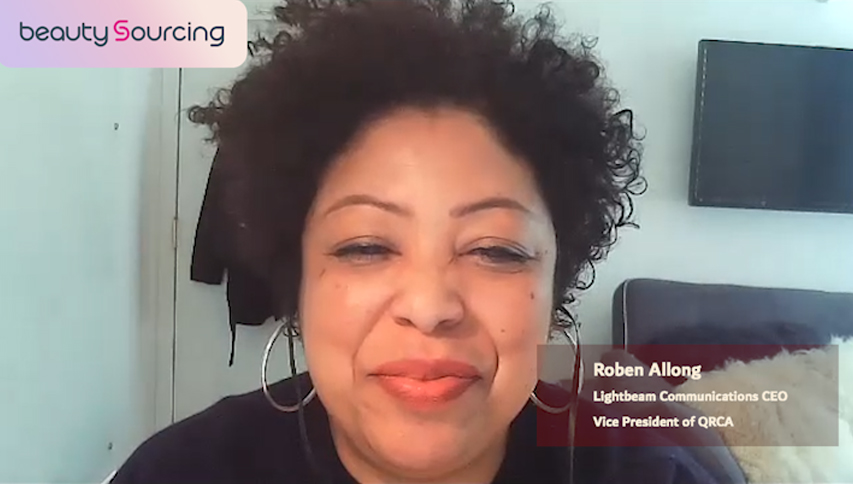 Roben Allong, Lightbeam Communications CEO, Member of Consulting Staff at Think Global Qualitative and Vice President of QRCA (Qualitative Research Consultants Assn.), has been in the research and strategy business for 15 years. She has leveraged her knowledge and experience to share her insights on what strategy of marketing communication to be adopted by the small and medium-sized enterprises for their business growth
Lightbeam Communications is a research and strategy firm based in New York city, which is beneficial as there're a lot of beauty companies based in New Jersey and New York. They collaborate with not just with beauty companies, but with ingredient suppliers to beauty companies. With a nice overview of the industry, they help beauty brands really with their communication, with their positioning and lately with really helping with their strategy development, especially when it comes to inclusivity. They've been for about 12 years in the field.
How do you connect a new trend into the product's marketing communication in order to seize the opportunity?
Obviously, things have been changing quite a bit due to the pandemic. A lot of opportunities coming out of the Covid-19 have uncovered for many companies, and connecting a trend into marketing communication is important. Roben points out the key point of being authentic. What does 'authentic' mean? Authentic can be translated to be kind of value, of commitment, of a brand really caring the customer, or to the cores that the brand is talking about or pursuing. "With today's information being everywhere, consumers can check the brand history, the brand heritage and the brand ownership, so it's very important that the brand to be transparent." Roben said.
Roben takes inclusivity as an example, which is one of the really big trends and is really around the world, especially coming out of the North America. Regarding to the idea of creating makeup for all skin types and skin tones, many brands may say ' we've been doing that'. However, what's happening is that when communicating with these communities and ethnicities that look for this kind of product, the brands don't have a previous track record of communicating with them or committing to them. They must be transparent about their effort and their communication.
Indie brands really have kind of advantage right now, because they're really starting their narrative from scratch. The small and medium-sized brands have tremendous opportunity in Post-Covid to create this new narrative. Roben emphasizes: "More importantly, they have chance to really redefine image. Beauty all about image is super important. Consumers today really want to see real life image." An example of beauty brands, who is really doing well in the communication space, is Glossia. They're really doing a good job to show how their beauty products to meet the needs of all different consumers in a very realistic way.
Small and medium brands should really lean on authentic more. It gives them a distinct advantage and it really shows their consumers that they really understand them, care about them, that they want them to be part of them.
How do you position the brand well in this fast changing market?
Positioning has to do with the real state in the consumers' mind that your brand wins or owns. For example, your brand owns a block in a giant city. What happens when the market starts to change, what do you do? I really recommend that brands pause for a moment. Every change that happened doesn't mean that your brand has to pivot to meet it. The changes are now coming so fast that if your brand pivots to meet each one, it potentially can lose that block that owns right now. You want to make sure an anchor that first before look and see which changes your brand should engage in.
For example, your brand perception and communication is very helpful. We always say look, listen and learn. The idea of looking, observing your consumer more as they go through the changes. Listening to what the new needs are and then pivoting to meet those. So really that involves when, where, how your consumer is engage in with your brand, especially in the digital realm. Covid-19 has accelerated that across the world. Covid-19 has really pushed everybody onto the online. When Covid-19 is over, people will definitely go back to the stores, but they will not give up the online, because the convenience that it forwards, the selection that it forwards. "The key is to understand your customer the micro cultures that are emerging and the coming needs that they share but also the nuance way in which they might be related to your brand or to your product." Roben says: "You really need to focus on that to stay not only well-positioned, but also ahead of the competition. Then you can take advantage of these changes and pivot every single time when changes come along."
What strategies will you recommend as an effective communication when launching a new product?
It's a great time to launch a product, says Roben. People may say we're in the middle of the pandemic, but we're going to come out of it. Out of the pandemic have emerged all of these new needs that the consumer is recognizing. "I think small companies, in particular, take advantage of it," Roben says: "What strategy can you use to effectively communicate, not just engage your audience, but attract and grow your audience? First, it depends on the target consumers you're going after and the product you're selling. The idea of research, specifically micro research, is key to understand when, where and how your target consumers want to receive message and be engaged, and that's going to become more and more important as the digital world splits as well."
For example, you have your online store. You got Instagram, facebook and all of these new digital outlets where you can advertise, communicate and sell your product. It's really important to understand where all of that your consumers engage and when and why. Social media has enabled all of the voices to be louder. The next step is getting a better understanding the nuances of your target consumers, their lifestyle, but more importantly their codes, and visual signs that they use or look for authentic that your product is right for them. This is critical to crafting effective messaging and communications.
Basically small medium-sized brand has to do more what has been doing, which is leaning into that consumer even more. Really understanding what those unique signs and symbols and codes that your consumers are really looking for, tell the consumer that your brand is the brand they want, because loyalty is becoming an issue. You should make sure that you're touching them in the right places as well, right media, right channel, so your communication really gets the heart of the matter.
What are the consumer trends do you foresee during this Post Covid-19 era?
Those consumer trends potentially more universal may be around the globe or through most of the world. There is obviously an increase in wellness and self-care. There is also a focus on sustainability and pay more attention to the planet. Consumers' focus still keeps on natural ingredients, but ingredients that create sense of wellness. Staying safe and healthy is definitely to be number one priority in all aspects of life.
Another big trend is catering to all beauty types. Covid has presented a fantastic and tremendous opportunity to small and medium brands. The small brands that customers are looking for now to be even more personalized and customized in their treatment whether that's makeup, skincare, accessories etc. Contactless beauty product sampling will continue to grow. People have got used to the idea of contactless engagement. "Post-Covid is going to be a huge boom for beauty products, huge, huge, huge…" Roben believes: "We're coming out and opportunity is tremendous. It would be wise to identify those will best beneficial for your brand."