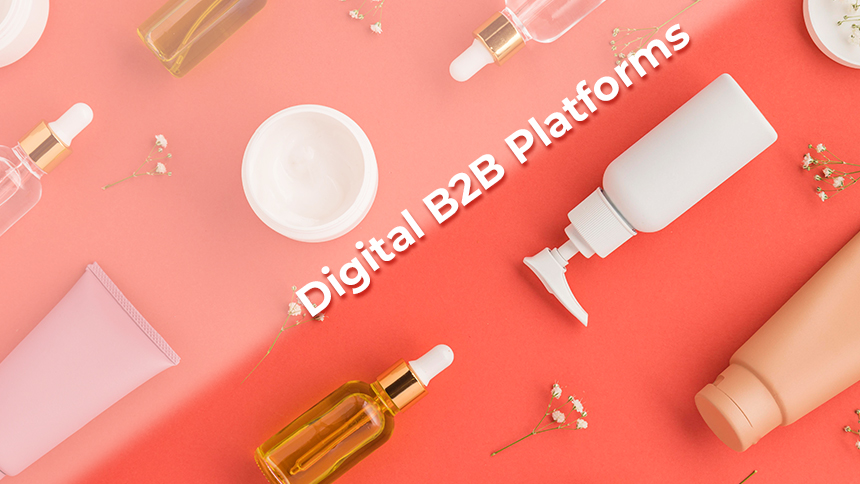 With the increasing popularity and rapid development of the Internet today, the main form of B2B is still based on the Internet. Alibaba, Made-in-China, Global Sources, and other leading B2B companies have become industry benchmarks. From a long-term perspective, the giants' goal is to continuously increase the online rate of all categories and monopolize the market through large and complete products. However, as the market changes, many vertical B2B e-commerce platforms have emerged in one or two years to meet the market's demand for professional services.
I personally recommend some better beauty platforms, combining their advantages and comprehensive considerations, I hope they can help you.


Alibaba: Established in 1999, Alibaba sets a good example of B2B website. It is home to numerous supply and demands information. Now, it is recognized as a world-leading online marketplace and business community. With over 14 million online registered users across more than 220 countries and regions, it helps global businessmen sell products, and expand their global presence. As a leader of B2B industry, it spends big money on all kinds of marketing resources each year. This means, you can sell any product on this platform, and what's more, your products have the opportunity to reach extensive global buyers.


Made-in-China: It has nearly 10 million daily page views, among which most come from its international version. This means there are huge export trade opportunities. It is the one and only large B2B platform that is dedicated to serving Chinese supplies. Many of its buyers come from western developed countries such as Europe and America. If you are a high-quality Chinese supplier with target customer groups mainly in the western developed world, then this B2B e-commerce platform will be a good choice for you.


Global Sources: Founded in 1971, Global Resources is an established multi-channel B2B foreign trade website. It operates through offline exhibitions, business publications, and selling industry consulting reports. This platform allows you to reach numerous high-quality buyers. At the same time, the high threshold also ensures the strong strength of suppliers. Due to its good, professional services, it is widely acclaimed in the world. Working with this platform, you will showcase your products and services in a variety of channels. The platform's growing popularity and professional services in foreign countries will provide you with exciting opportunities for brand marketing.
The above platforms are well-known B2B platforms, but they are neither vertical B2B ones nor being exclusive to cosmetic sourcing. For cosmetics supply chain sourcing, I have a few suggestions on professional cosmetic B2B platforms that may add to your options.


BeautySourcing: Considering the specific requirements of supply chain sourcing in the cosmetics industry, Beauty Sourcing adopts the O2O mode that connects online negotiation and offline exhibitions. Attending more than 100 world-renowned exhibitions in the domain, Beauty Sourcing enables global buyers to search for the products they need while touching and feeling samples in person in trade shows. Beauty Sourcing has built an extensive web of connections over a decade and more in the past. It has many top suppliers and factory resources in China. Therefore, you can give your personalized demands through RFQ and then you will receive offers from many different suppliers. Meanwhile, as a vertical platform, Beauty Sourcing regularly updates purchasing guides based on changing market trends and innovative solutions from suppliers. So, working with Beauty Sourcing, you will keep up with suppliers' innovations and market trends.


BeauteTrade: It is one of the most popular B2B platforms dedicated to cosmetics in the world. It holds the most comprehensive directory of all cosmetic, beauty, and personal care items from reputable manufacturers of the world. As the world's fastest-growing B2B portal, it offers a marketplace where manufacturers, distributors, retailers, and importers interact with each other. BeauteTrade's main customer groups are finished product wholesalers. You can find the latest and most trendy cosmetic as well as personal care articles on the portal.


DHgate: Established in 2004, this is the world's leading cross-border e-commerce foreign trade trading platform. This B2B platform allows global buyers to buy products from small and medium factories or wholesalers. Its DHgate platform provides high-quality product information for overseas users so that they will know the latest market supply and demands for the first time. Their goal is to "Buy globally, sell globally".


Overall, cooperation with B2B e-commerce giants such as Alibaba is a good choice, because they enable you to reach as many global buyers as possible, regardless of your industry. But Beauty Sourcing, Beautetrade and DHgate are better for you if you focus on cosmetics sourcing. In particular, Beauty Sourcing, as a vertical B2B platform with the O2O model, enables your brand to truly reach buyers and provide efficient online negotiation. It breaks the geographical and lockdown restrictions, to better contact buyers and sellers. It can also dispel the concerns of many online buyers about the quality by offering physical experience in world's major beauty exhibitions.