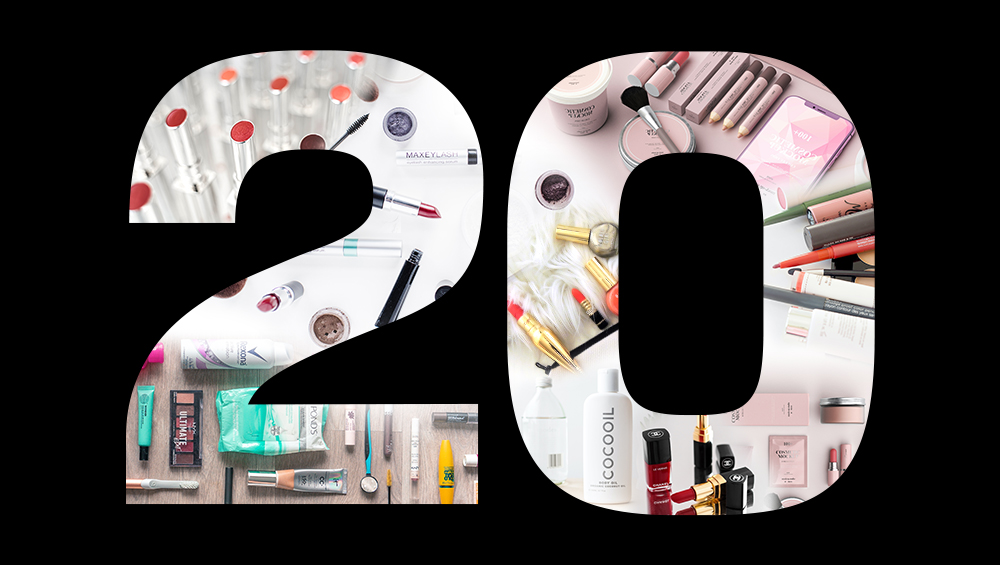 —Annual top 20 companies, ranked by beauty sales.

What a difference a few months made. From Beauty riding high in late 2019 to the severe repercussions brought on in 2020 due to the global pandemic and perhaps, most notably industry-wise, brick-and-mortar and travel retail closures—Top 20 along with many beauty brands, relied on quick and nimble thinking and new products (including huge amounts of hand sanitizer and PPE) to weather the unprecedented storm.

While it didn't replace in-store sales, digital helped save the day.

With a continuous spike in online sales, punctuated by additional Covid-19 disruptions, new corporate leadership and racial diversity goals, 2020 has marked a groundbreaking transition to meet the demands of consumers whose shopping habits have morphed, and whose immediate daily needs and beauty preferences have altered (ie, skin care over makeup).

A thirst for Prestige remains strong and China stands as a key prize as it emerges from the pandemic. (However, according to a report by online retailer JD.com, young, wealthy Chinese consumers are now favoring domestic DTC brands rather than global ones in certain categories, including cosmetics.)

The world's leading brand manufacturers on Beauty Packaging's annual Top 20 list this year may be the same names as on past rosters—but for many, their standings have shifted and strategies have been revised in order to regain their success moving forward.

One commonality: Almost all hit a positive note for YOY increased sales in 2019—and many had strong digital presences already in place. The outcome for 2020 remains speculative.

New Leadership
New corporate plans often require new leadership. Struggling Coty appointed their fourth CEO of 2020, naming former L'Oréal Paris CEO Sue Y. Nabi to the post.
At Kao, Yoshihiro Hasebe will replace president and CEO Michitaka Sawada. Ron Gee stepped in for Marc Rey who suddenly resigned as president and CEO of Shiseido Americas.
And we await news on L'Oreal's uber-successful CEO Jean-Paul Agon, who, due to corporate policy, will be replaced prior to his 65th birthday next year; most bets are on Nicolas Hieronimus, current head of the luxury division.
At The Estée Lauder Companies, Jane Lauder, granddaughter of the founder, joins the C-Suite as EVP, enterprise marketing and chief data officer.

Trend Predictions
What trends can we expect moving forward?
A focus on sustainability, especially packaging, but also clean formulations and CSR will remain prominent. In fact, Henkel and L'Oréal USA both signed on to the U.S. Plastics Pact to speed progress toward an American circular economy for plastic.
We can also expect to see momentum in R&D, the rise of packaging using ocean/marine plastics, and pledges for zero waste—as well as an increase in stick packs and bar products, and an uptick in "waterless" claims. In formulations, clean and vegan, halal, and upcycled food ingredients such as coffee grinds and avocadoes.
For engagement, beauty brands turning to AI, TikTok and gaming to extend reach and promote products. As far as personnel: more diversity in appointments.

Looking Ahead
In August, L'Oréal reported sales growth for the first time since January, when Covid emerged. A recovery in China, L'Oréal's largest market, and "booming online sales of skin care products and hair tints across other markets" helped improve earnings.
Yet, we all pin great hopes on store openings.
"The world will likely not experience lockdowns in a similar way to the first half, stores will likely remain open," said an optimistic Agon in a conference call with analysts.

Report Data
Just a note on the compilation of this report: Companies were analyzed based on 2019 data. But annual reporting varied among these leaders from 12-31-19 to 6-30-20.
Beauty sales included only cosmetics, fragrance and personal care items when possible. Figures for companies outside the U.S. were based on the exchange rate for the fiscal year on the day it ended. Estimates are provided in cases where full disclosure was not available.


Top 20 Companies—Ranked By Beauty Sales
1. L'Oréal $33.4 billion
2. Unilever $24.5 billion
3. The Estée Lauder Companies $14.3 billion
4. Colgate $13.1 billion
5. Procter & Gamble $12.9 billion
6. Shiseido $10.8 billion
7. LVMH $7.7 billion
8. Beiersdorf $7.0 billion
9. Johnson & Johnson $6.3 billion
10. Kao $5.9 billion
11. Amorepacific $5.7 billion
12. L Brands $5.3 billion
13. Coty $4.7 billion
14. Henkel $4.3 billion
15. Chanel $4.1 billion
16. Avon Products $3.6 billion
17. Natura &Co $3.6 billion
18. Kose $3.0 billion
19. Mary Kay $3.0 billion
20. Revlon $2.4 billion


Source:
https://www.beautypackaging.com/issues/2020-10-01/view_features/top-20-global-beauty-companies-765486/