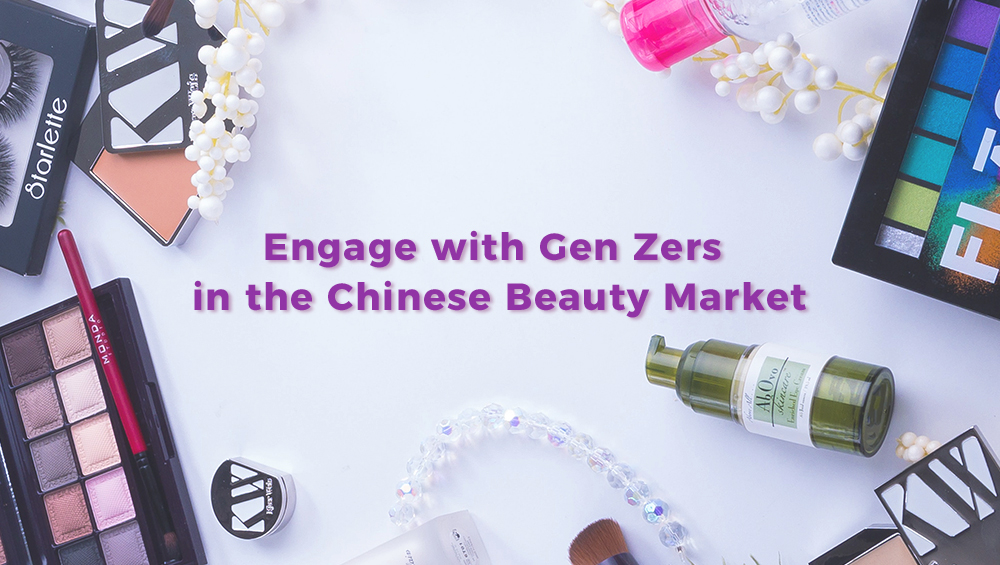 Gen Z are the first generation of digital natives, meaning they're instinctively familiar with technology communication, commerce and entertainment.
In China, this group of people born between 1995/6 and 2010/5 grew up during the fastest sustained expansion of the nation's economy. Consequently, they're used to rapid improvements in their living standards.
This unique background sets Chinese Gen Zers apart from millennials and Gen X generations and their peers in other parts of the world.

What Makes China's Gen Z Different

Gen Zers make up a third of the global population, nudging ahead of millennials to become the largest age group. Plus, they have huge spending power and have been named the biggest cohort of spenders in the beauty industry in WGSN Beauty & Insight's white paper titled Gen Z: Building New Beauty.
According to WGSN, female Gen Zers spend $368 annually on beauty and are likely to become the most critical generation for beauty retail. For beauty brands, it's imperative that they understand the needs of Gen Zers and start building strong relationships now.
The narrative is similar in China but with a few slight differences.
A McKinsey survey revealed that Chinese consumers are more impulsive than their peers around the world. When split into age demographics, the Gen Z population in China are the most spontaneous of all with 47 percent saying that they buy products on the go compared to 42 percent of Chinese millennials.
This impulsiveness and optimism spills over into spending on cosmetics and beauty brands. With Gen Z making up about 15 percent of the population in China, it's paramount for any consumer company that wants to play in the nation's ongoing economic growth story to understand this cohort of people.

What Do Gen Zers Look for in Beauty Products?

Being born at the dawn of the online era and growing up in the age of social media and selfies has made Gen Zers acutely aware of their online identity.
For these reasons, this cohort of people constantly shop for health and beauty products earlier than Gen X or Gen Y. In fact, The Pull Agency conducted a survey that found that by the age of 14, 60 percent of Gen Z will have purchased beauty products compared to just 39 percent of Gen Y and 23 percent of people over 55 years of age.
A similar study found that 3 in 4 of Gen Zers began using a facial cleanser and moisturizer before the age of 18, giving them even more purchasing power than their Gen Y and Gen X counterparts.
This same demographic shift is also apparent in China and other parts of Asia, where Gen Zers follow their favorite brands and use digital platforms to make purchase decisions more than any other age cohort.
Any beauty brand looking to reach this rising generation needs to truly understand the defining features and desires of the Chinese Gen Z consumer.

How to Engage with Gen Zers in the Chinese Beauty Market

Here are a few tips and tricks that beauty brands can use to enter the beauty market in China, engage Gen Zers in China.

Use Short Videos

Young consumers across the world are hooked to compelling and snackable videos popularly found on platforms like TikTok and Douyin, which have come to dominate pop culture conversations and grab Gen Zers' attention.
For beauty brands, investing in personalized marketing on such short video apps tells the consumer that you're enthusiastic about being close to them. Video content resonates better and attracts Gen Zers besides winning more screen time and engagement.

Focus on what they value most

Chinese Gen Zers are also growing in ethical and social consciousness, meaning any beauty brand that wants to influence their purchasing decisions has to incorporate the values they hold dear.
Focus on social, environmental, economic and political issues in your narratives and act as a support pillar to them by promoting the values they'd like to be associated with.

Tell Stories

To increase engagement with Gen Zers in the Chinese market while gaining traction on social media, beauty brands can use creative and concise marketing compared to lengthy advertisements.
Use down-to-earth humor, storytelling and inclusivity to emphasize brand personality and ensure that your ads blend in with other content on the platforms you choose. Gen Zers are ready to engage with fun, inspiring and authentic brand content while having a laugh with the brands they're buying from.

Partner with Beauty Influencers

Chinese Gen Zers, especially female consumers tend to follow several beauty key opinion leaders (KOLs) and bloggers because they believe they're a trustworthy source of information.
These KOLs and bloggers create content around beauty brand reviews and tutorials, which Gen Zers follow especially on platforms like Weibo, where they have a growing community of followers.
Not only that, but these influencers use social media as they're able to reach their fans and get virality for their posts. They're also able to reach each segment of the brands' target audiences and helps them build credibility as the Gen Zers perceive the brand to be friendly even among more "common" people.

Go Live

Chinese consumers are growing increasingly fond of live streaming, which is why the nation's beauty buyers especially Gen Zers flock online marketplaces repeatedly.
In particular, live streaming is a key driver that's supporting the boom of luxury beauty brands in China. Not only does it augment the size of your reachable consumer base but live streaming also bolsters engagement with Gen Zers and allows them to have a happy online shopping experience that they wouldn't get at a physical store.
Live Streaming also helps brands instill confidence in the Gen Z consumer that the brand is credible and authentic because they get to engage directly with beauty KOL s and experts who give them sound advice and introduce them to the latest trends.

Connect with the Most Connected Generation

Gen Zers are fluid, self-educated, eco-conscious, allusive and thus they actively look for beauty brands that share their values.
As tech-savvy as they may be, they still desire real, physical and personal experiences that allow them to experiment and have fun. Beauty brands that exhibit a strong identity and purpose will earn their favor and audience.
Want to learn more? Contact Beauty Sourcing today to find out how you can get connected to the Gen Z market in China and grow your business.