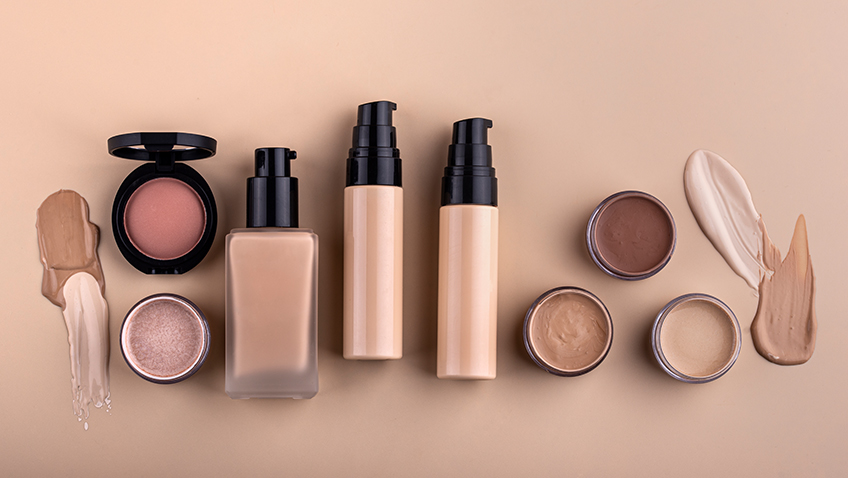 Foundation makeup is one of the most important types of makeup that you can use. It helps to create a smooth base for the rest of your makeup, and it can also help to cover up any imperfections on your skin.
Here, we will discuss what foundation makeup is, and we will also provide some tips on how to choose the right foundation product for your skin type.
What Is Foundation Makeup?
Women have been using cosmetics for centuries to enhance their appearance. Foundation makeup is a cosmetic product applied to the skin to give an even, smooth complexion.
It can be used as coverage for imperfections such as blemishes, dark spots, and scarring, and it can also help to improve skin tone.
Formula, shade, color and finishes should be considered when choosing the right product to apply, and are available for all skin types, even those that are required for different purposes, such as skin with a tendency toward sensitivity.
Types Of Foundation Makeup
Liquid
Liquid is one of the most popular foundations, as it is easy to apply and provides a natural, uniform finish. It can be applied with a brush, sponge, or your fingers and built up to make a fuller coverage. Many liquid products contain additions such as moisturizer or sunscreen, giving them an extra benefit.
Powder
Powder foundation is ideal for those with oily skin, as it helps to control shine and absorb excess oil. It can be applied with a brush or sponge and is best suited for those with medium to full coverage needs.
Cream
Cream foundation is perfect for dry skin, as it helps to hydrate and nourish the skin with the addition of moisturizer. It can be applied with a brush or your fingers and provides medium to full cover.
Mineral
Mineral makeup is a type of foundation that is made from - you guessed it - minerals, and It can be composed of natural or synthetic minerals.
The benefit of using mineral makeup over others is that it is often less irritating to the skin and does not clog pores as liquid products can.

Serum
A serum foundation is designed to be light and provide sheer cover. It contains smaller molecules than traditional foundations, which allows it to sink into the skin and create a more natural look.
Tinted oil
This type is made with a base of oil. The oil can be vegetable or mineral, and it can be tinted with color to match the skin tone of the person who will be using it.
Whipped mousse
This product is perfect for normal to oily skin types as it contains mattifying ingredients to create a uniform look, but it's also suitable for dry skin types.
Stick
This is applied directly to the skin and provides medium to full cover. It's easy to apply, lasts all day, and does not require any blending.
Spray
This is applied to the skin using a fine mist, and it can provide light to full coverage.
How To Choose The Right Foundation
Here are a few general tips to help you find the right foundation for your needs:
For oily skin: If you have oily skin, avoid using heavy, oil-based foundations as they will only make your skin look greasier. Instead, opt for water-based or gel-based products that will help absorb excess sebum.
For dry skin: A foundation cosmetics color that is more neutral or cool will go best with dry skin. These help to nourish and hydrate the skin while also performing its usual purpose.
For sensitive skin: Avoid foundations that contain fragrances, alcohol, or other harsh chemicals. Instead, opt for mineral-based or serum foundations designed to be gentle on the skin.
By selecting the right foundation, you can create a flawless makeup look that lasts all day long.

Tips For Applying Foundation Makeup Correctly
Here are a few tips to help you apply your foundation makeup correctly:
Start from the center of the face
To start, apply a pea-sized quantity to the center of your face in light, even strokes.
Then blend the foundation outward until it fades into your skin. If you feel you need more, apply another layer only to the areas that require it instead of adding a complete layer.
Blend foundation thoroughly
Be sure to blend the foundation down to your neck, so there is no line of demarcation. Also, take the time to blend it into your hairline and ears. If your skin type allows, you can use a light liquid foundation as a primer before dotting a powder foundation over the top.
Use a setting powder or spray
Once you have applied and blended your foundation, set it with a setting powder product or spray to help it last all day long.
Conclusion
Like a moisturizer or a primer, foundation makeup is a versatile and necessary tool in any woman's beauty arsenal. It can be used to do different tasks such as:
covering up flaws
create an even skin tone
enhancing features
giving your skin a uniform look
Understanding your skin type is a great start to choosing the right foundation formula, and when you look better outside, you feel confident on the inside.