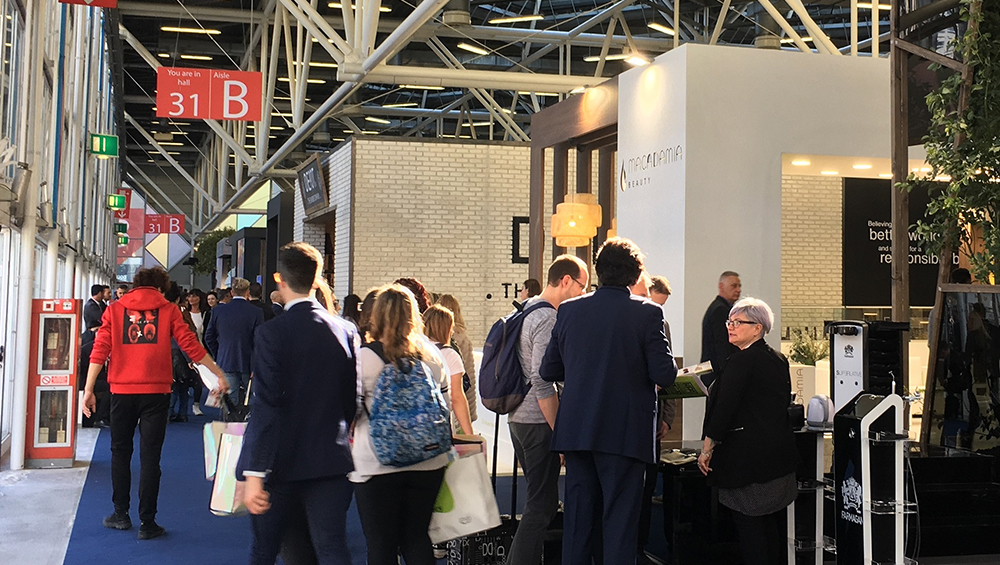 Due to the global COVID-19 pandemic, many trade shows had to be deferred until further notice, canceled, or converted into virtual events. However, as the world slowly opens up and health experts try to lower the impact of the crisis, many such trade shows are back up and ready to go for 2021 and beyond.
The global beauty industry is among the worst hit by the pandemic, with sales being weak in the first quarter of 2020 and widespread store closures witnessed across the world.
But the COVID-19 crisis isn't the first one to rock the beauty industry, which comprises skin and hair care, color cosmetics, personal care, and fragrances among others.In 2008, the global financial crisis saw spending on beauty products and services fall slightly, and bounce back later in 2010.
As far as trade shows go, the beauty industry suffered major losses as popular beauty trade shows such as the Cosmoprof Worldwide Bologna, The Makeup Show Houston, the Indie Beauty Expo Berlin, and others were canceled from March 2020.
Fortunately, beauty trade shows and conventions are bouncing back and we expect to see many such events going forward.
Here's a roundup of the upcoming beauty trade shows that will not only help you get ahead of the game but also build your brand reputation in the beauty industry. You can connect with potential suppliers, view upcoming beauty products and trends, and network with other beauty experts and executives.
Better yet, you can look up and connect with attending suppliers beforehand.
1. MakeUp in New York
MakeUp in New York is a leading makeup and beauty event that brings together influencers, suppliers, brands, and trendsetters.
These and other beauty professionals gather together at this B2B event to showcase their products, get information on the latest innovations and trends and get the beauty inspiration they seek.
You can expect to find beauty vendors with various products on display and/or for sale. Plus, experts share their knowledge on diverse beauty topics relevant including but not limited to business practices, tools used by beauty experts, and makeup artist techniques.
The event will be held from September 22nd to 23rd, 2021 at the Javits Convention Center - River Pavilion.
2. IBS New York
The International Beauty Show (IBS) is one of the largest beauty events in North America. Here, you'll find industry suppliers, independent stylist professionals, and get to test new beauty products and services.
The event is designed to help you find new solutions that can help you change the scope of your career and grow your beauty business.
IBS New York is open to diverse people from the beauty industry, including students, professionals, and businesses. You can expect at least 500 top exhibitors in the personal care and beauty space who will showcase their products, and with whom you can create meaningful conversations in this space.
In 2021, the IBS New York show will be held between July 25-26 at the Javits Convention Center, while the 2022 edition will be held between March 13-15 at the same venue. You can attend the event in person or virtually.
3. Cosmoprof North America Las Vegas
Organized by the North America Beauty Events LLC, the Cosmoprof North America is a leading B2B trade event that includes conferences, forums, and educational sessions.
The three-day trade show is one of the most profound in the Americas, bringing together industry professionals who gather to connect, converse, and create new collaborations.
Cosmoprof gets thousands of attendees, along with hundreds of exhibitors who discover product innovations, new distribution channels, brand launches, and more encompassing all the beauty industry sectors. Specifically, you'll get to meet beauty industry professionals in the packaging, professional cosmetics, and personal care verticals.
The event will be held from August 29th to 31st, 2021 at the Mandalay Bay Convention Center.
4. In-cosmetics Global
After having cancelled 2020 edition, the organizers of the trade show, that usually gathering more than 1800 of ingredients, fragrances, lab equipment, testing and regulatory solutions for the personal care industry, have opted for a hybrid event on October in Barcelona, In-cosmetics Global will therefore combine aspects of both the virtual and physical experience to deliver COVID-secure networking and sourcing opportunities.
5. International Salon and Spa Expo
The International Salon and Spa Expo event feature a variety of hair care products and services. Makeup artists will also showcase what they can do with their creativity in front of attendees and exhibitors alike.
The show is an excellent way to network with other professionals and connect with some of the best talents in the industry. The main aim of the show is to elevate the beauty industry and empower members to do their best work.
You can attend the expo from January 29th to 31st, 2022 at Long Beach California.
6. Luxe Pack New York
Luxe Pack New York, which takes place in New York City is organized differently compared to other beauty trade shows. You get the same range of services and products you'd find at other events across the country, but what sets the Luxe Pack show apart from the pack is its emphasis on luxury brands for makeup enthusiasts.
The highly sought-after B2B event attracts America's largest luxury brands and brings together a mix of cosmetics, skincare, fragrance, fashion, wines and spirits, and fine food to suit your palate.
You can learn about and source new materials, products, and suppliers at this big beauty trade show, which happens from October 27th to 28th, 2021 at the Javits Convention Center in New York.
7.

Beauty Middle East
The Beauty Middle East trade show is one of the most influential and most visited events in the world.
The show, which has been held for over two decades under the Beautyworld brand, offers the beauty industry with a platform to exchange information about the wellness, cosmetic and spa sectors.
As one of the largest international trade fairs for beauty products, fragrances, hair, and wellbeing in the Middle East, the three-day show offers trade visitors the convenience of meeting more than 1,800 companies.
Beautyworld Middle East plays a critical role in growing and developing the beauty industry, with an excellent representation of global brands and products.
If you want to know what's trending in the beauty industry, plan to attend the Beautyworld Middle East trade show, which happens from October 5-7, 2021 at the Dubai World Trade Center.
Connect With Beauty Suppliers Easily
While these conventions are excellent for all key players in the beauty industry, getting supplies still remains a challenge for many players in the industry. It's even harder in this era of the pandemic.
The beauty industry grows fast, with new trends always emerging. Therefore, the faster you get supplies, the faster you can grow your business.
Fortunately, beauty sourcing platforms make it easier for you to get supplies without leaving your office. From perfumes and hair products, to cosmetics and nail products, these platforms help you with:
● Information on upcoming events, especially those that you can join virtually due to travel restrictions
● Prior research on suppliers who are attending some of these events so industry players can connect early
● A list of suppliers of beauty products and services along with what they offer to make it easy for any other industry player to reach out
● Regular research on new trends and suppliers to keep interested parties informed

BeautySourcing simplifies searching for suppliers in beauty industry giving you time to focus on your core business and connect with other professionals virtually owing to travel restrictions.
The platform has more than 5000 suppliers registered on the platform offering more than 200,000 products across 100 worldwide beauty trade events. All you need to do is select the event, product, or supplier and connect with them.
In turn, BeautySourcing will update you with information on any product of the beauty supply chain, find the right supplier and stay connected.