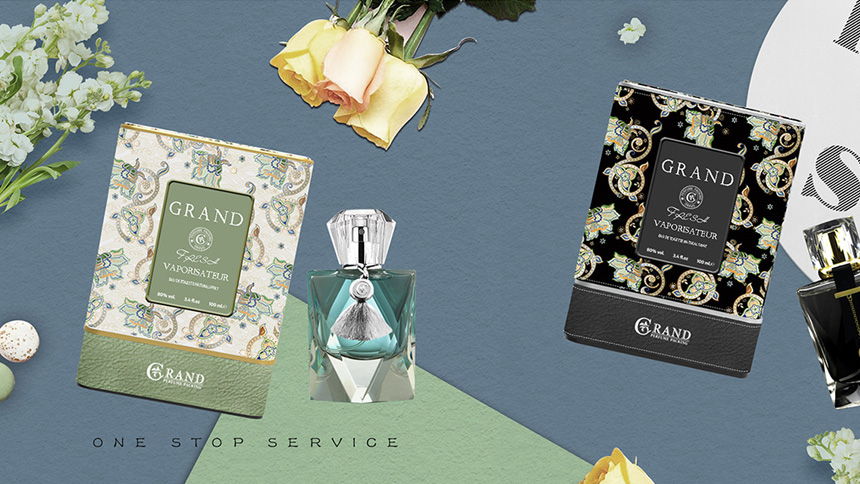 Today, in the cosmetics sector, the marketing impact of packaging has reached 92%, an increase of 10%. This means that packaging design is of big importance in the perfume industry. Actually, the proportion of packaging design will be strengthened in the future along with the market growth. If perfume brand owners want to remain competitive in the market, they must consider innovative packaging to capture more market share.
Wuxi Box Imp & Exp Co., Ltd. can provide perfume brand owners across the world with more innovative solutions. It designs and manufactures perfume packaging projects and all kind of packaging embellishments to customize your perfume bottles in a unique way. It can offer a wide exclusive selection of ornaments totally adapted to your project: bottle caps charms and chains, textile accessories, personalized self-adhesive labels in different materials ( PU/ leather, aluminum) even bottle cases in different materials and techniques. With over 10 years of experience and separate workshops, the company has taken the lead in Chinese perfume packaging industry.
Here is a look at two major perfume packaging process: one is perfume bottle covers and cases; the other is perfume caps.
Perfume Bottle Covers and Cases
Wuxi Box designs all kinds of perfume bottle covers and cases made of different materials, such as, PU/leather. PU/leather, by virtue of its natural characteristics, has become the favorite of many packaging designers.

Perfume bottle classic handmade PU leather decoration with customized pattern
The following products are examples of this design.


PU/ leather raw material itself is flexible in nature. That means such material can be processed by printing, hot-stamping and logo pouncing. This creates numerous possibilities for innovative design.
The products shown above reflects the embrace of leather processing technology to decorate the perfume bottles innovatively. You can also have your customized design. Overall, PU/ leather decoration makes the packaging look fashion and unique. So, if you want perfume to look unique, packaging with PU/ leather decoration is a good choice.
Along with the growing demand for strong visual effect of consumers, electroplating processing prevails. This process endows the plastic parts with metal properties so that they become more heat-resisting, harder and more wear-resisting. At the same time, it makes the part look shimmering.

Glass perfume bottle electroplating on plastic components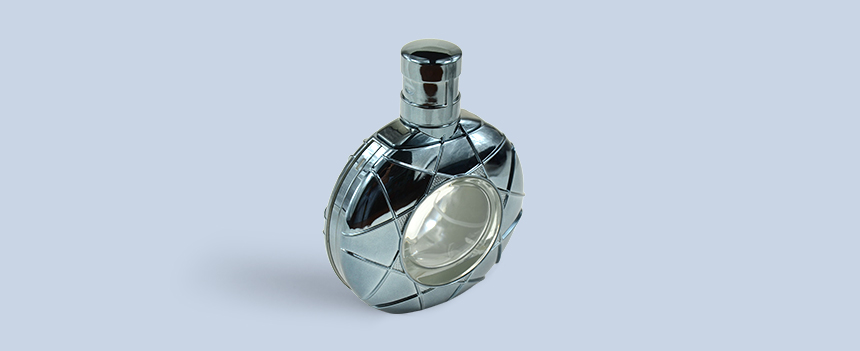 Most industrial plastic surfaces look lacklustre. Certainly, suppliers can color the plastic to attract consumers. But this processing can not produce the shimmering visual effect. However, electroplating works so well in this respect. With the help of electroplating, the above perfume packaging looks shinny and shimmering. This gives a strong visual aesthetic sense. Therefore, if you want your perfume to give a strong visual impact, you can find perfume covers and cases processed by electroplating.
This is only the tip of the iceberg of Wuxi Box's creative solutions. Here is another unique packaging solution—fine engraving lacquering finishing. Engraving lacquering is a traditional Chinese handicraft. It is a mix of engraving, painting, handcraft, conveying a strong solemn, elegant and artistic sense.

Fine engraving lacquering finishing glass perfume bottle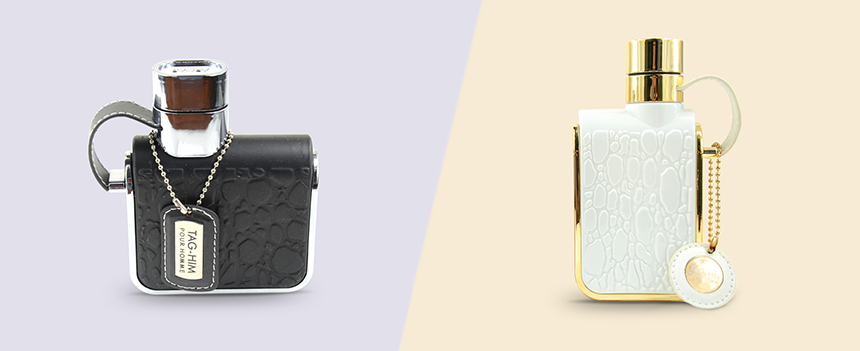 Engraving lacquering finishing on glass perfume bottles makes the packaging look sleek. Importantly, this process makes it possible for innovative and elegant designs and decorations.
The above two products are superb examples of the fine engraving lacquering finishing technique. The engraved lacquer coatings matches perfectly with the metal finishes, conveying a sense of elegance. Such products are great partners of perfume with an elegant temperament.
Perfume Caps
Perfume cap is an indispensable part of the perfume packaging as it holds the key to the perfume preservation and use experience. In consideration of this, Wuxi Box seeks to achieve excellence in manufacturing and designing perfume caps.
Perfume caps are designed with different materials, like PU/leather.

Unique Design Fancy Deodorant Cap
Different materials can produce different visual effects. For unique appearance design, different materials are used. Among others, PU/leather is popular for packaging design.


Wuxi Box does not settle for PU/leather design. Instead, it combines different techniques when design perfume caps. For example, it uses the galvanic finishings and offers customized design options. Therefore, these perfume cap designs look unique and amazing.
Even if it is a small part of perfume packaging like bottle cap, it should be well-designed.
Wrapping Up
These are major perfume packaging manufacturing process. Actually, Wuxi Box has more to offer. More information can be obtained through Beauty Sourcing.


References:


https://www.packagingdigest.com/personal-care-packaging/perfume-packaging-does-so-much-more-these-days
Related Products