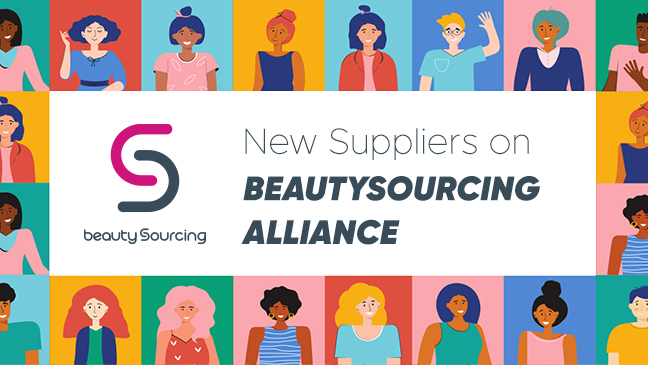 If your new year's plan is to find some new suppliers to make your supply chain more dynamic, you are very lucky: we present a premium suppliers alliance to make a shortlist of qualified vendors from online to offline. Our suppliers come from nearly all beauty sectors, from packaging, skincare, hair care, makeup tools to nails, etc. This year, we will strive to add more new suppliers to our alliance just as we did before. Actually, many new suppliers are joining BeautySourcing Alliance each month. Here, we are highlighting 5 new but professional suppliers that may help you to better achieve procurement goals in 2022.

Aovea Cosmetics
Aovea Cosmetics Co., Ltd.
, is a company located in Zhejiang, which focuses on offering all kinds of makeup brushes. It has exclusively served the makeup brush sector since 2010. Aovea Cosmetics can offer brushes made of a wide range of fibers and with different head shapes, handles and finishes. More importantly, it is a firm supporter of cruelty free movement. It uses high-quality synthetic fibers that perform as well as natural hair, and are more durable, hygienic and hypo-allergenic. Especially, private label makeup brush supply is available there. With more than 10 years of manufacturing experience, Aovea Cosmetics has simplified the private product line and shortened the production cycle. If you want customized makeup brushes with private label, Aovea Cosmetics may be a perfect partner.

Zhonghui Daily Necessities Packaging
Situated in Zhejiang,
Ningbo Zhonghui Daily Necessities Packaging Co., Ltd.
designs and produces cosmetic pencils, including eyeliners, eyebrow and lip liner pencils. The company has strong R&D capabilities and production facilities. It has built a strong pipeline of technical experts and established a standard laboratory. In a plant covering13,000 m2, it has established 4 production lines and 2 customized production lines, with daily productivity exceeding 15 million. Significantly, Zhonghui Daily Necessities Packaging has multiple cooperative projects with 2 research institutions and university research institutes. This sustains continuous innovation in new product development.

Jinzhicheng Packaging
Founded in 2009,
Jinzhicheng (Jiangsu) Packaging Technology Co., Ltd.
specializes in manufacturing perfume bottles and oral bottles with aluminum sprays. When designing the sprays, Jinzhicheng follows the Centre Technique International de l'Embouteillage verre et PET (CETIE) market standards so that the sprays are removable and interchangeable. With its headquarters located in Jiangsu, Jinzhicheng has a stable source and warehousing of raw material aluminum parts. Besides, it is equipped with advanced manufacturing and testing facilities and strong technical forces. So various automatic production process from injection molding, screen printing, spraying and electroplating is available there. With more than 20 years in the sector, Jinzhicheng is able to provide flexible MOQ to cooperate with brands' new product development.

HIEE
Dongguan HIEE Electronic Co., Ltd.
is a Dongguan-based company that is devoted to design, research & development and manufacturing of hair growth comb devices. HIEE has explored in the hair growth comb field for more than 12 years. Now, it got the German Rhineland TUV certification and has become a reliable manufacturer & supplier of many Japanese and German famous brands since 2018. HIEE places high importance on innovation and it hires several engineers responsible for product development. With 3 production lines, its annual production capacity exceeds 100,000 units. Latest, it integrates multiple advanced technologies like RF, low-level laser and infrared LED light into a laser comb, making hair growth never a fantasy.

Demei
Established in 2005 and located in Shanghai,
Demei Industrial Limited
is specialized in designing and manufacturing essential oil dropper bottles. Demei is now doing more to explore the 100% recycled glass bottles by using bamboo, aluminum and other eco-friendly materials. Moreover, aesthetic design and practical functionality are equally valued at Demei. With over 2000 staff and five affiliated factories covering more than 80,000 square meters, its production capacity reaches 100 million sets of cosmetic containers each year. It has been certified with ISO9001, ISO14001, and QS. Hence, Demei enjoys a very good reputation in Europe and USA.
BeautySourcing.com
is an online virtual beauty supply chain platform that helps connect you, your products, and companies to full-service premium manufacturers. Exploring in the beauty industry for more than 10 years, BeautySourcing has built an alliance of numerous premium suppliers whose credentials have been carefully reviewed. By doing so, BeautySourcing ensures their premium products and services while simplifying your selection process. Their innovative solutions will be regularly displayed at various world-class beauty events. This will be an excellent opportunity to check samples in person. If your New Year's resolution is to find some qualified new suppliers, you can take advantage of this shortlist of premium suppliers on this platform.
Related Products