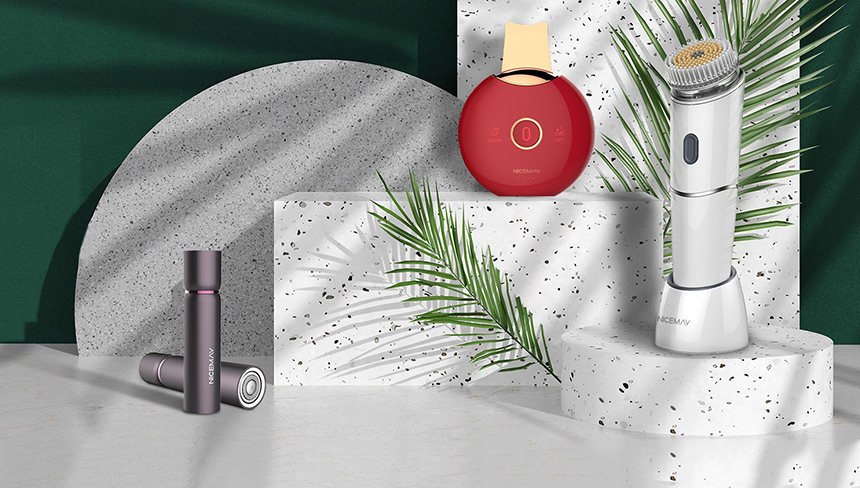 At-home beauty device market booms during the pandemic. Get motivated to find out the products trends and experience trending products in person!
Fanny, sales manager of Nicemay, offers us her unique insights into home beauty device market and product trends.
Nicemay, as a high-tech enterprise, is committed to offering a range of cutting-edge smart beauty apparatus, including facial cleansing brush, skin scrubber, beauty mask, facial roller massager, and makeup tools, etc. It is dedicated to R&D, designing, manufacturing, marketing, and sales of beauty devices around the world. Fanny, sales manager of Nicemay, provides observations on home beauty tech trend.
Beauty Sourcing|What do you think about the market prospects for at-home beauty tech and devices?
Fanny|Actually, before Covid-19, the at-home beauty tech sector experienced a rapid growth. But the lockdowns during the pandemic give the sector a big push. Home beauty device tech—either purely digital or a mixed approach of hardware and software—enables consumers to personally control over their skincare routines at home. It ensures the daily skincare while reducing risks of infection.
Especially, at-home beauty tech is also boosted by the Gen Z consumers. At-home beauty tech shortens the beauty care time, catering to the fast-paced lifestyle of young people. The high tech, such as AI system in L'Oréal's Perso, is just what Gen Z consumers want.
At-home beauty tech fuels the development of home beauty device market. According to P&S Intelligence, the market size of global home-use beauty devices amounted to $6,457.4 million in 2019 and it is expected to experience a compound annual growth rate of 20.4% by 2030. North America is still the largest home-use beauty devices market. Asian-Pacific region has a growing demand for at-home beauty devices.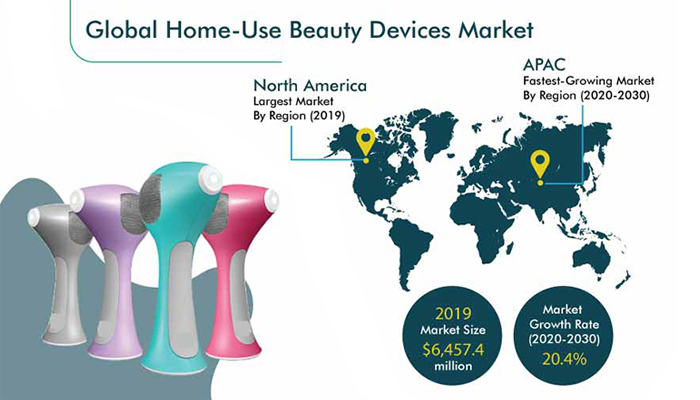 Source:psmarketresearch.com


So as you can see, at-home beauty devices enjoy a brighter future.
Beauty Sourcing|What are the product trends in at-home beauty device market?
Fanny |As far as I observe, at-home beauty device market has shown four major product trends.
Microcurrent
Most of the microcurrents are biological currents compatible with human cells. They act on the skin and muscle layers with specific frequencies and waveforms. Microcurrents are doing well in anti-aging.
It's no exaggeration to say that microcurrent devices produce macro results.
Eye massager and eyelash curler we offer on Beauty Sourcing platform are superb examples of embrace of microcurrent technology.

● Eye Massager
It is portable and ease of use. It integrates with radio frequency, EMS and photon therapy functions. With 4D treatment heads, it can not only be used for eye massage but also for facial massage.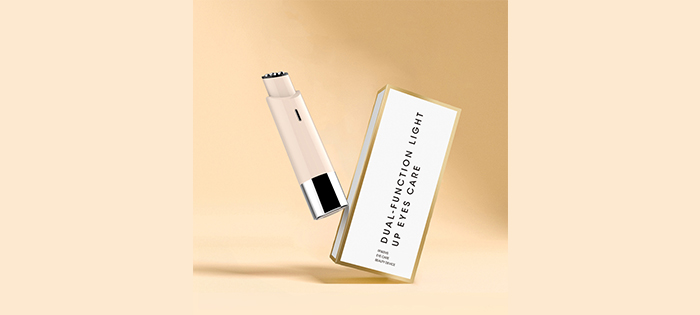 ● Eyelash Curler
Equipped with color-changed silicone pad, it can produce electric 50℃± 10℃ heating, easily leveling up eyelashes without damaging them. Significantly, people can take it on-the-go.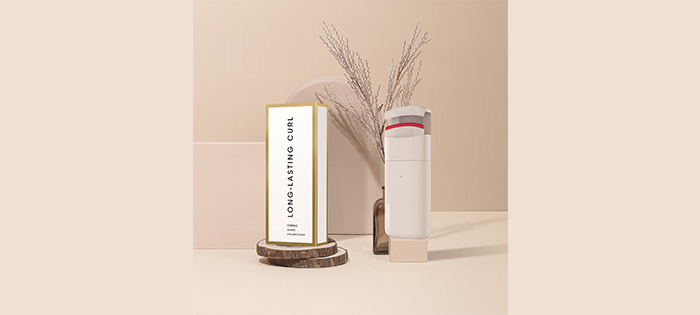 LED & Light Therapy

This trend sounds cool. More importantly, it works really well.
With the progress of LED technology, LED applications have become increasingly popular in medical and beauty fields.
Meanwhile, different colors of light can generate different effects. Red lights helps with collagen production while blue light can kill acne-causing bacteria.
This therapy works well in wrinkle relaxing, acne treatment and collagen synthesis.
That is why LED & light therapy becomes a new home-based skincare trend.
For this trend, we have our own solutions.

● LED Makeup Mirror
Makeup mirror is essential for every woman. But, every woman deserves an LED makeup mirror.
LED electric makeup mirror electric is mainly made of one piece glass and one silicone suction head.
This product can provide better lighting, correcting uneven facial tone and defects. Thus, people can have a natural look.
Also, this products can offer different light color options. Its LED& light therapy functions can improves skin condition: acne removing and anti-wrinkle.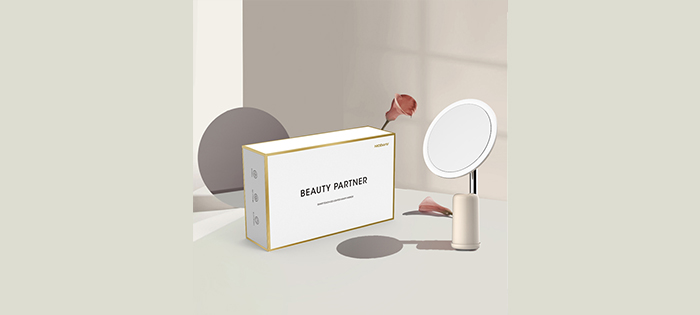 ● Mask Treatment Device
This photon therapy mask treatment device integrates with 3 different colors—yellow, red and blue.
They work jointly to improve skin quality.
It is portable. Consumers can enjoy skincare everywhere they like.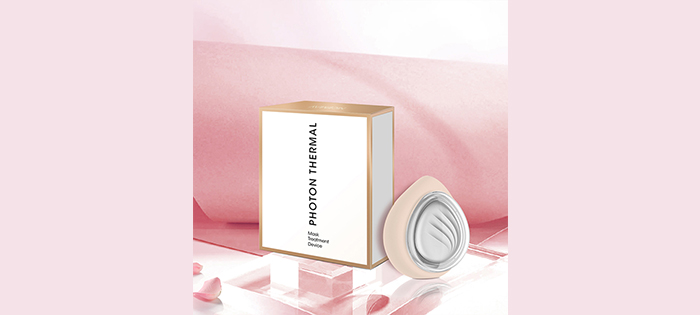 Facial Massage
Science shows that massaging can actually improve the facial blood circulation and make it look better.
Facial massage beauty device is just like beauticians' hands. Whenever you press the button, you can enjoy yourself.
Guasha massager becomes a new trend.

● Guasha Massager
This is a user-friendly design suitable for eye, face and neck massage at home.
It integrates with microcurrent function and 24Karat gold plating metal material.
Guasha massager helps nutrition absorption, de-puffing, facial contour defining, and facial blood circulation.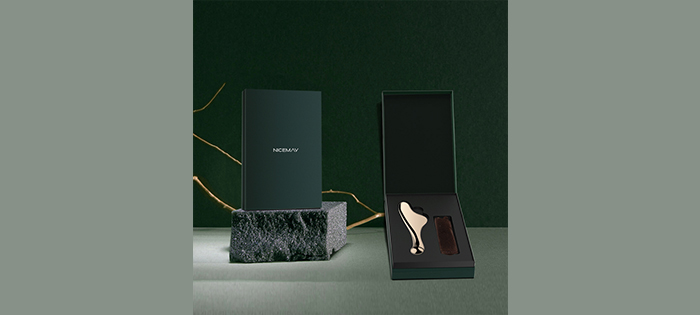 Cleansers
Many women usually pay attention to skin care. They carefully cleanse their skins and use skin care products, but they see very little effects. This leaves many women at a loss.
Until cleansers appear, consumers seem to find an answer. General cleansers only clean the surface of the skin, but cannot clear cosmetic residue and dirt deep inside pores as well as the aged cuticle.
In view of this problem, we launched facial cleansing brush and skin scrubber.

● Facial Cleansing Brush
Facial cleansing brush embraces the 42℃thermal technology. Proper temperature stimulates facial circulation, opens pores and activate cells.
It has food-grade silicone, 0.6mm fine bristles. The soft, intensive bristles generate foam quickly, gently cleansing facial make-up residues and dirt.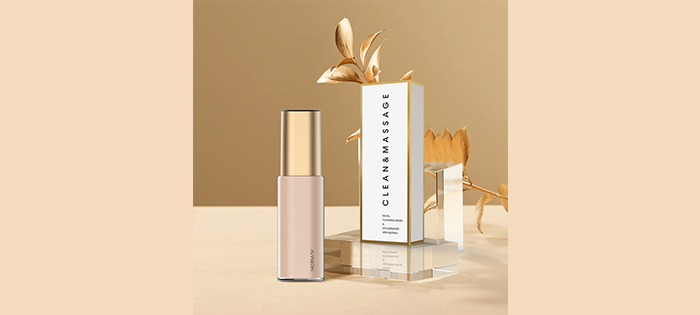 ● Skin Scrubber
This is a portable, silicone device. It uses ultrasonic high frequency vibration and adsorption function of positive ions to gently scrub skin and deeply dredge pores.
Most of the cosmetic residue and skin dirt carry negative ions. Ordinary cleansers do not work.
But like ions repel each other; unlike ions attract. Positive ions can absorb the cosmetic residue and skin dirt.
The negative ions lead the nutritious ingredients to the skin, nourishing the skin.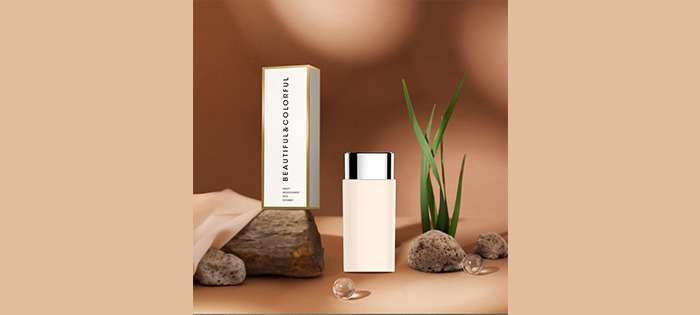 Beauty Sourcing|Will these product trends and trending products be present at Cosmoprof Las Vegas 2021?
Fanny |Certainly.
We will attend the Cosmoprof Las Vegas 2021 to showcase them.
Meanwhile, I sincerely hope that more professional buyers across the world will join the Cosmoprof tLasVegas to know about the at-home beauty device market and product trends in-field.
Related Products