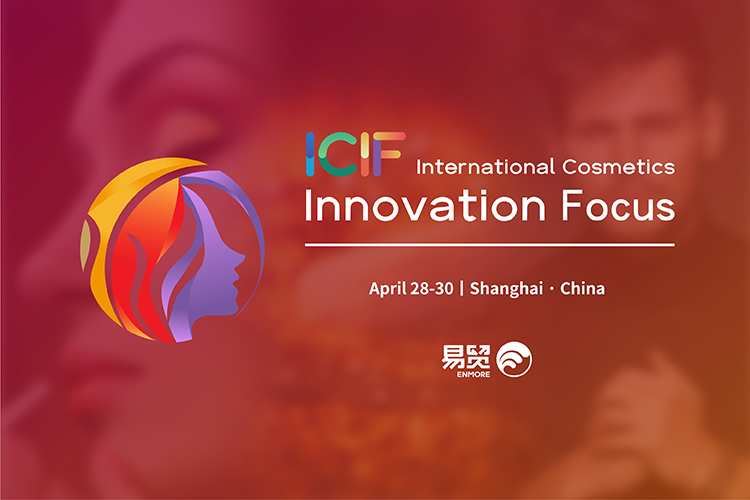 【Forum Time】28th -30th April 2021
【Forum Place】ShangHai China
【Organizer Unit】ICIF Organizing Committee
【Cooperation Unit】VERTOT、360XH Website、Beauty Science Research Institute、PanTaoHui Website、CBO、HuaXun Info
【Contact】+86 21 51181370 Joe
【Official Website】https://webshow.ienmore.com/?activityId=1578&languageType=0
【Forum Overview】Four Major Sessions Focusing on Anti-aging Internal and External Interflow
Major session: Macro Environment Consumer Demands Marketing Trends Regulation and Policies
Special Session 1: International Exchange – Overseas Advanced Technology
Special Session 2: Basic Research - Dermatology Clinical Medicine
Special Session 3: Local Development - Anti-aging Technology Research And Development Innovation

The "ICIF 2021 International Cosmetics Innovation Forum" hosted by Enmore Information Technology will be held in Shanghai, China on April 28th -30th, 2021. We sincerely invite you to participate in this forum.

"ICIF" is a high quality cosmetics industry service platform for international academic celebrities, domestic and foreign brands, raw ingredients and related organizations. Starting from the third quarter of 2020, China's economy is recovering, and the cosmetics industry is also recovering. Consumer structure Rejuvenation; rapid development of functional skin care products; new marketing models help the development of the cosmetics industry, and new brands have great potential; the development of the cosmetics industry is also moving towards a new era. The driving force for the development of the cosmetics industry is R&D and innovation. The "Regulations on Supervision and Administration of Cosmetics" to be implemented on January 1, 2021 also emphasizes innovation. How can cosmetics companies use their potential, seize opportunities, and continue to innovate under new trends? And let new raw materials, new technologies and new products reach consumers as soon as possible. Anti-aging is an eternal topic in the cosmetics industry. ICIF will also focus on this field at this year's forum to discuss the latest trends in anti-aging skin care.
【Latest Topics】
Major session: Macro Environment Consumer Demands Marketing Trends Regulation and Policies
Review And Outlook For Global Cosmetic Market
The Progress Situation Of International Relative Certifications
Market Regulations In Southeast Asia - Cosmetic Market In Thailand And Interpretation Of Regulations
The Market And Policies In Japan And South Korea
Comparison Of Cosmetic Laws And Regulations In Europe And America And Analysis Of Differences In China
Regulations On The Supervision And Administration Of Cosmetics And Other Domestic Cosmetics Related Laws And Regulations
Special Session 1: International Exchange – Overseas Advanced Technology
European And American Market– New Skin Anti-aging Technology, Advanced Efficacy Evaluation Technology, Artificial Skin Research, Sensory Cosmetics
Japanese And South Korean Market – Latest AI Facial Technology, 3D Printing Technology, Natural Biological Fermentation Technology
Middle East market – skin care amazing new Technology
Southeast Asia Market: CBD, The Development Of Halal Cosmetics
Special Session 2: Basic Research - Dermatology Clinical Medicine
Study On Endogenous Senescence And Regeneration Of Human Epidermal Stem Cells
Analysis And Solution Of Dry, Oily, Acne And Other Skin Problems
Skin Micro Ecological Balance And Flora Exploration
Research On Skin Classification And Physiological Index Based On Skin Body Correlation Theory Of TCM Constitution
Special Session 3: Local Development - Anti-aging Technology Research And Development Innovation
New Trend Of Anti-aging Skin Care Materials: Plant Natural Ingredients, Chinese Herbal Native Materials, Marine Extracts
Anti-aging Skin Care Products New Technology, New Product Development: Full Band Protection, Bionic Technology, Freeze-dried Crystal Emulsification Technology, Precision Skin Care- Deep Antioxidant, Technological Skin Care
Anti-aging Efficacy Evaluation And Case Sharing: Efficacy Evaluation ,Case Sharing Of New Brand Success

This ICIF will uphold the philosophy of Enmore's conferences, and hope that through this event, you can gain something in the field of anti-aging skin care, learn the latest technology, and help you develop products from the source!

Hereby, ICIF Organizing Committee sincerely invite you to attend this International Innovation Forum.