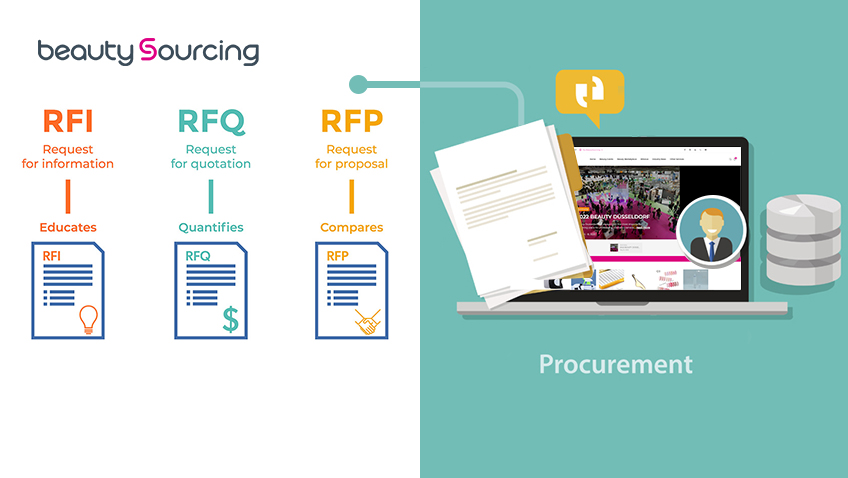 BeautySourcing
is a vertical beauty platform that has been committed to supporting the beauty supply chain for a decade and more. By analyzing massive user data collected in the past several years, the platform finds that global buyers are seeking easier and more personalized ways to find reliable beauty suppliers and manufacturers. To feed the ever-evolving demands of global buyers, BeautySourcing comprehensively upgrades its purchasing system. The platform after transformation combines online displays and offline shows and pays more attention to serving professional purchasers coming from all over the world. Especially, a professional procurement process system is introduced to offer better services to users.
Today, BeautySourcing integrates a new procurement system. The new interface allows users to manage their inquiries efficiently and have real-time interactions with suppliers. The whole new system is made of an important toolkit for efficient procurement – RFI, RFQ and RFP. All three work together to make purchasing process more automated. Actually, they have been used by global buyers for decades to gain information from potential suppliers and build a profitable partnership with reliable suppliers on an equal footing. Here is a closer look at them:
What is RFI
Request for Information (RFI) offers buyers a way to get information from suppliers about the their products, services or solutions available in the marketplace. This is especially valuable in beauty industry as various innovative solutions usually emerge along with evolving market trends and those innovations will provide more value to business. Overall, RFI offers buyers an opportunity to pre-select potential suppliers.
What is RFQ
Request for Quote (RFQ) follows RFI and means buyers ask suppliers for quotation. This process is based strictly on price. It enables a buyer to know more about the prices and costs of certain products or services before asking for an RFP. On the basis of this process, buyers will have a better understanding of how much they have to pay for the products or services and the costs of other associated processes, such as, transportation. Especially, when purchasing a new product, RFQ will help buyers understand their costs and adjust budgets along with it. Such function makes purchasing process on the platform easier and more efficient.
What is RFP
Request for Proposal (RFP) is the final step to issue a proposal to meet the desired needs in the previous two steps (RFI and RFQ). After receiving RFP, suppliers will respond with their best offer. Usually, it is created based on information collection during RFI process. It is important because it contains much information critical for the final transaction, such as, specific requirements in terms of technical, operational, security, etc.
Besides, the new procurement system is also upgraded in a way that enables a number of integrations—including personnel, progress and document management. Users can check their progress through contacts and then communicate with suppliers about what is progressed and what is next. The document management function makes it convenient for users to check inquiries both received and issued in a direct way. So to speak, it helps with the entire purchasing process from inquiries, and purchase orders to the final accounts payable.
BeautySourcing
also builds an offline team to provide assistance with online procurement. Users can send product requirements directly through RFQ. The assisting team will match the corresponding suppliers and send relevant product information to the users for the first time. This greatly speeds up the purchase of buyers. Certainly, when there is a language barrier between suppliers and buyers, the assisting team will also lend a hand. By boosting smooth communication between both parties, the offline team will go to great lengths to help them make a deal.
Generally,
BeautySourcing
's new system revolutionizes procurement by giving users automation, convenience, real-time response, and full control. Enabled by the system upgrading, BeautySourcing will surely help you to buy and partner in a better manner.