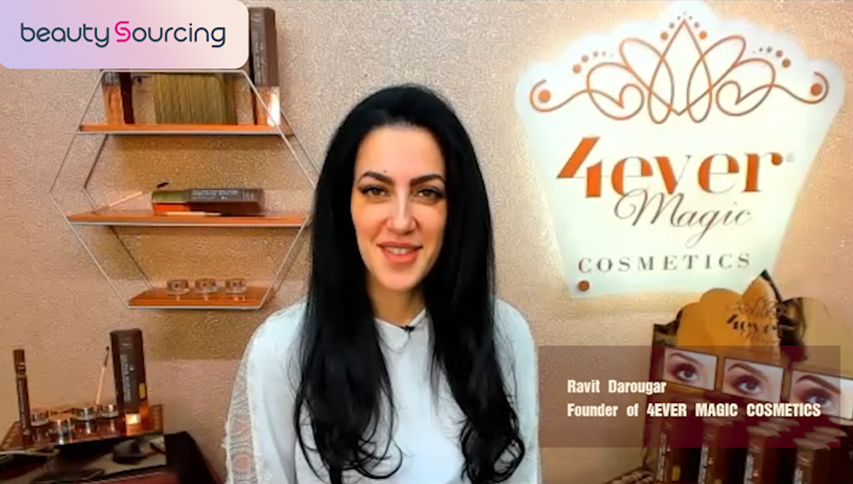 Ravit Darougar, founder of 4ever Magic Cosmetics based in US, shares us her brand story and experience, giving practical tips on how to launch a beauty brand successfully and subsequently grow business in the beauty industry.
4ever Magic Cosmetics is highly appreciated by makeup artist. Darougar admitted it's been amazing three years when sharing her brand story. She launched her company in May 2018. It just started from a small but unique idea of creating two colors in one glass jar. "I decided to go with it. I didn't know what to expect; I didn't know if the makeup artist loves it or not," Darougar says, "I remember the first day I launched, nobody knew with our 4ever magic cosmetics." However, she just encouraged consumers to try it as Darougar says: "If you don't like it, it's ok; you don't have to give us good reviews." She had only 500 follows in her facebook page at that time, and today she has over 1,000,000 follows. It's so important when you believe in your idea, you just go with it and you must be consistent. "So many times I heard the word 'no'. It didn't make me to stop. Actually it gave me the power to continue and pursue my dream." Says Darougar
The pandemic has changed consumers' behavior. What do you anticipate the next trend of the makeup in the post Covid-19 era?
"Covid-19 definitely changed everything that we see towards beauty industry," Says Darougar, " I think it will go toward clean, basic makeup rather than colorful and high pigment makeup." since we all know that we're wearing masks outside during the pandemic, there will be more eye products. Following the trend, Darougar has her own plan: "My vision is to develop every product which should be unique and something that boost the sense of confidence of our consumer."
What do you think is an important factor in building up a successful beauty brand?
Consistency is the first word Darougar mentioned. "Believe in your idea," Darougar, "If you don't believe, you cannot make people convinced and make them understand your product." Second is to be unique and not to copy other people. For sure, it needs more investment and more time; you have to overcome a lot of difficulties on the way. However, if you look it in the long term, it's well worth it, said Darougar. Being optimistic is also an important factor. Say hello to people and let them know your beauty brand. "I pitch to everyone," says Darougar, "I talk about the product to everyone, and you have to be excited about it. People feel it. If you don't have excitement, people don't believe in your idea." Show everyone your new product and encourage them to try it.
A good product never can be done without a good cooperation of partners. Any good experience you can share with us in finding right suppliers?
There are so many suppliers and vendors that you can work with. The box adopted by Darougar is very unique. It's two boxes connected to each other. Darougar says: "It's very difficult for me to find someone who can produce it correctly." Meanwhile, it may result in more cost. In that case, she takes it very seriously and gives her practical advice. "First of all, you must get sample. You must see the quality of the manufactory. (Ask) if they can send you the pictures how they do things, how many employees (they have), (and)… the capabilities of massive production," Darougar Says, " Most of our suppliers are from China. I have very good experiences with Chinese suppliers…"
Have you try to use beautysourcing.com?
As mentioned before, there are so many suppliers to work with. The concerned point is how to choose the right one. "…it's an amazing idea," Darougar says, "A lot of suppliers and manufacturers in US…don't know where to start. They don't know where to find a component company. They don't know who is good…" Beautysourcing.com offers a comprehensive access for both suppliers and manufacturers to find their right partner.
Darougar also shares some practical suggestions on adapting to new product as well as her unique ideas of her plan in the near future.