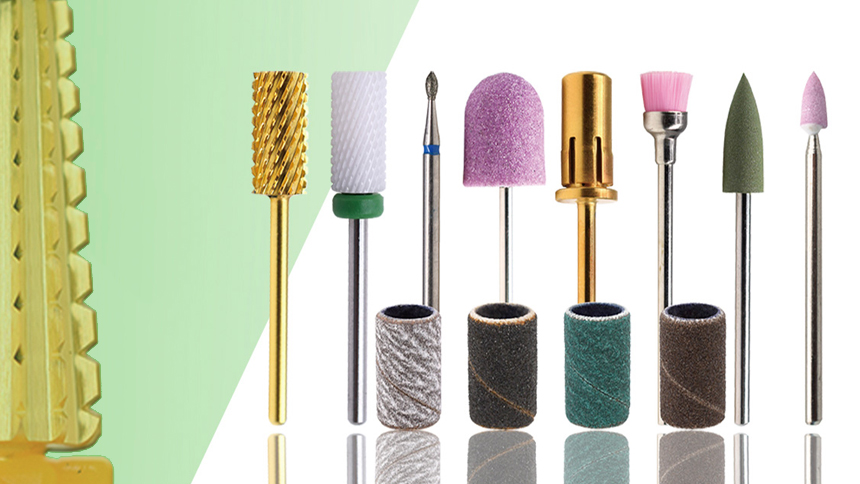 A nail drill is the best buddy of a professional nail technician. As a nail maintenance tool, it is used to shape nails to an aesthetically pleasing length and width. Its rotating bits also help remove dead skins, cuticles, calluses and ingrown nails. With a nail drill, you will have a perfect manicure in a comfortable and efficient manner.

How to choose a nail drill?
You have to consider three factors—size of the shank, grits and materials. These factors help you determine which one best suits you.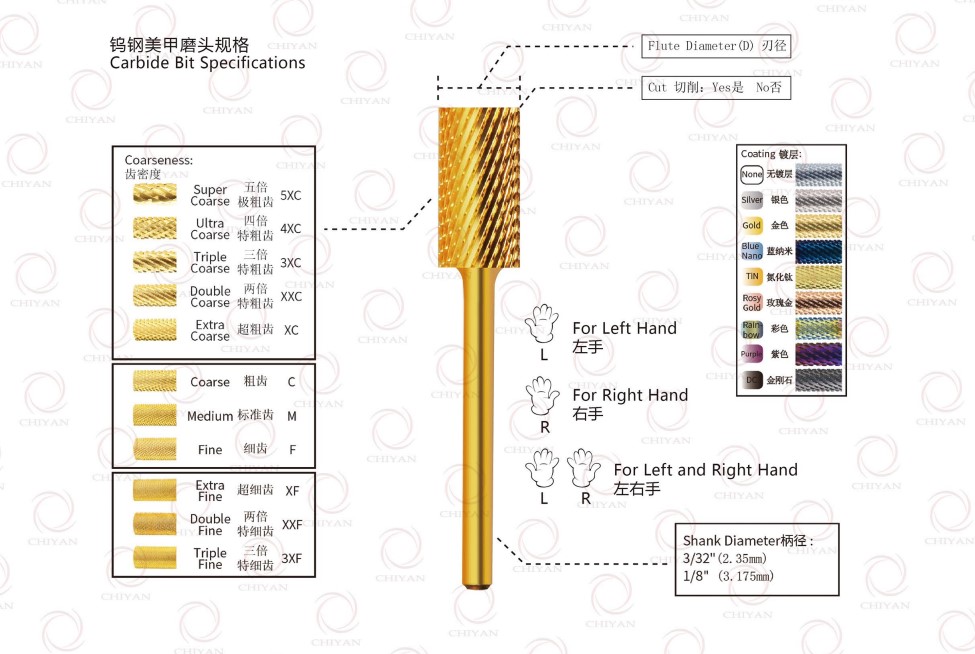 Size of the shank
It is important to first determine the shank size of your nail drill. If you want your shank size fits most of nail drill devices, you have to choose the 3/32. This is the standard shank size for a professional electric nail drill. The shank size of normal electric nail drill machine is 1/8, but this size does not fit an expert electric nail drill tool. Meanwhile, different drill bits are designed in different shapes and sizes. By confirming this factor first, you will be able to pick up the drill bits that fit your drill nail shank size well.
Grits
Grit relates to the degree of coarseness. It is determined by the number of rough partials per square inch. Large partials on a coarse bit will mean smaller number of grits. That is to say, the 180 grit is coarser than 240 grit.
There are diversified grit numbers commonly used in the market: 60, 80, 100, 120, 180, 240, 320, 600, etc. Different grit number functions differently. For example, 60 grit, 80 grit and 100 grit are used more frequently to shape artificial nails or thick, hard natural nails. These types can removes nails quickly. But if you have soft natural nails, 120 grit, 180 grit and 240 grit may be good choices for you. Therefore, grits must be considered as they closely relate to what you want them to do.
Materials
Nail drill bits are made of different materials. Due to varying features, materials will bring about different strengths and usage experience. That is why you have to consider the materials when choosing a nail drill. Four materials are the most common: mandrel/sanding band, ceramic bits, diamond bits, and carbide bits. Here is a closer look at these materials and strengths.
● Mandrel/sanding band
Mandrel/sanding band functions like a sandpaper, sanding nail surfaces and edges easily and quickly. The mandrel bits are usually made of metal or rubber. They are one-use-only as they can not be disinfected after each use.
One Piece Adjustable Sanding Band Mandrel manufactured by Shanghai Chiyan is a good example of this type. Its mandrel is made of steel, stainless steel, carbide, or rubber. These materials make it strong and wear resistant. Moreover, this product also excels in heat dissipation.
And the one-piece mandrel design makes it easier to change sanding bands.

● Ceramic bits
A great thing about this material is that it will not heat up just as other bits do. This benefits from the nature of ceramic materials. In addition, ceramic bits have long service life, and they can be cleaned and sterilized.
100% Zirconia Ceramic Nail Drill Bit from Chiyan is a featured product. Made of high strength zirconia ceramic, it is antibacterial and safe for nail artists as it can be washed and sterilized. It has the best concentricity and multiple options for coarseness. As the ceramic material is acid and alkali resistant, this product is super durable.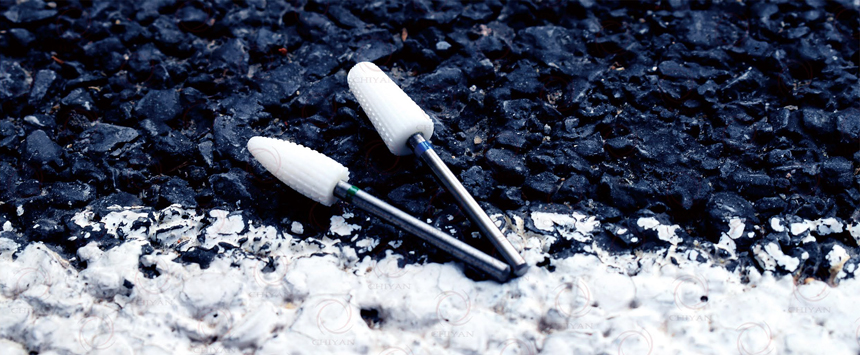 ● Diamond bits
Diamond is also a very common material for nail drill bits. As the material is hard in nature, diamond bits are the hardest ones available for sale in the market. They are resistant to rust and can be disinfected. Importantly, given diamond is an excellent conductor of heat, diamond bits are able to absorb heat away from the nail.
304 Stainless Steel Diamond Nail Drill Bit is an excellent diamond bit. It fully shows the features of the material. It is featured by diversified grit and coarseness options. With durable and friction resistant coat, it remove dead skin and calluses efficiently. Thanks to its better heat-conducting property, it is well recognized by its fast heat dissipation.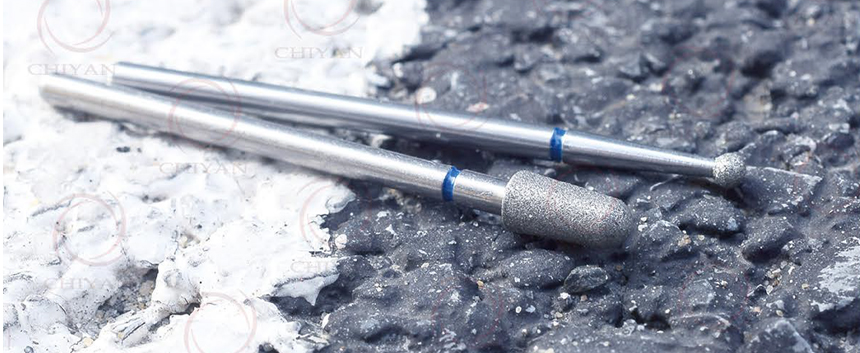 ● Carbide bits
The carbide metal material is harder and stronger than steel. It is 20 times the strength of steel. That means carbide bits are hard and durable. This enables consumers to have a comfortable experience when being applied to artificial nails as it create very little heat. With small teeth on carbide burs, it removes things materials quickly.
100% Tungsten Carbide Nail Drill Bit is a great tool. It enjoys great properties: hardness, long lifetime, good heat dissipation, various grit and coarseness options, no clogging, and high concentricity, etc. These strengths make it a perfect buddy of nail technicians.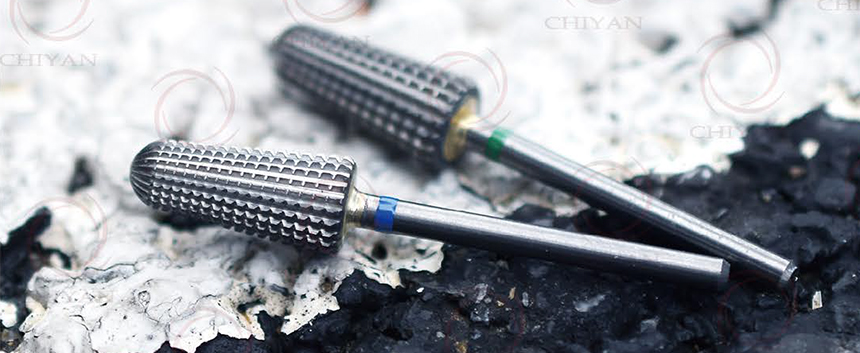 Consider buying only top quality bits as they do the job better and easier. You also need to make sure that you replace your bits every few months so each time you will use your nail drill, you will have a perfect finish.